after leaving Olathe, Kansas, we drove to Laramie, Wyoming and crashed at a hotel. We would've liked to drive 1 more hour west before calling it quits for the night, but in Wyoming, you don't have a lot of options. so we stopped earlier than we might have preferred but that gave us time to enjoy dinner and then some swimming at the (really small and indoor and COLD?!) hotel pool before heading to bed.
many, MANY thanks to Zach and Sarah for asking us what route we planned to take to Wyoming. the route we PLANNED to take? yeah. a stretch of it was UNDERWATER b/c they had to flood the levies (or break the levies?) to keep from flooding a nearby city. that could've been a several HOUR detour for us. whew! crisis averted…. even though it meant we drove on some pretty small and interesting "highways:"
another HUGE "thank you" to Sarah for sharing with us Isaac & Brooklyn's BUSY BOOKS. i think our kids were ready for something DIFFERENT in the car:
(though i must be honest and admit i am STILL trying to hunt down most of the pieces….)
(we saw horses in trailers, cows in trailers, chickens on a semi, cows on a semi and pigs on a semi…. not all on the same day, but i thought i'd point it out now since i have that picture of the chickens…)
(we did take a 15-minute detour to drive through a corner of Colorado. it was unnecessary, but we were within 5 miles of the state line…. if we HADN'T taken that little detour, we would've regretted it!)
HOORAY for rest areas with SOFT, GREEN grass and play structures (even if they are small):
and hooray to Wyoming for having more cool windmills that my kids like to watch:
dave wanted to leave around 6 the next morning (Sunday the 24th). it was still a long drive to boise and we were only staying overnight with Jeff & Becky (another one of dave's college roommates), so he wanted to make sure we'd have time to actually VISIT with them. we didn't make it out by 6, but we had loaded the car, checked out of the hotel, purchased lunch items AND gasoline by 7:10 a.m.
sam was on another "i want to draw" kick, so we pulled out the mini doodle pro boards and she drew a picture of davey (complete with spiky hair):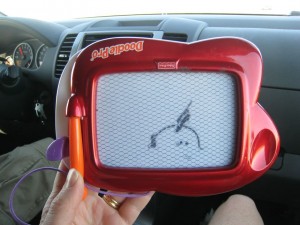 just some pretty flowers at a rest area: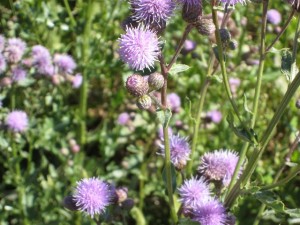 and some PERSPECTIVE on the size of those windmills: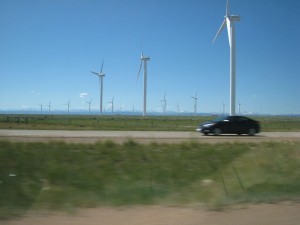 wyoming, though beautiful, was a pretty difficult drive because it's so barren:
that's a whole lot of road and a whole lot of "nothing" to look at to keep you awake!
though it was very cool that they had a state park just BEFORE a rest area stop just in time for our lunch break: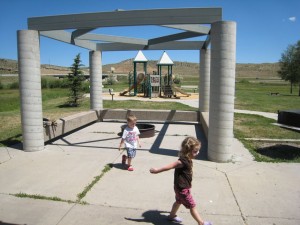 (our kids were more interested in playing "fire" around the fire pit instead of climbing all over the play structure you can see in the background)
window washing is becoming a lost art form, i believe. but my husband has mad skills. and he got to put them to use A. LOT. on this trip. a lot. like, pretty much EVERY TIME we stopped for gas (which was usually 2-3 times a day)!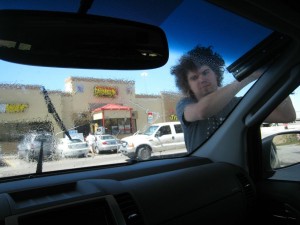 in case you're wondering, we DID make it to jeff & becky's house in time for a nice dinner, a swim at a nearby pool, a few minutes on the play structure BY the pool and some more time chatting and "catching up" before saying "good night."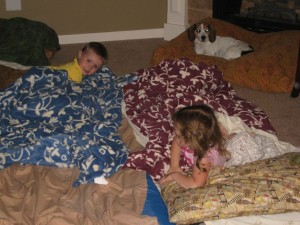 (that cute dog is Tacoma, aka: Coma, who is one of FOUR dogs belonging to J&B. they boarded the other 3 for the weekend, for which i'm thankful. davey and samantha fell IN LOVE with coma, however, and did NOT want to leave her behind!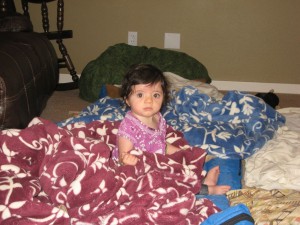 it was a relaxing, restful stop. we were in NO RUSH to leave the next morning, even though jeff & becky had to head off to work. i finished a load of laundry (i did at least one load of laundry at EVERY HOME we visited. EVERY), i did a short, photoless blog post, we finished packing up the car (one. last. time!) and then we were off. no fanfare. no sad good byes. just locked the door, slipped the key under the mat and we were off.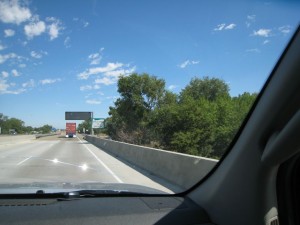 alex is a sneaky little hair puller… don't lean toward her when you're taking a nap:
after her snooze fest, sam wanted to DRAW some more (big surprise!). what WAS a surprise was this…. the letter "T:"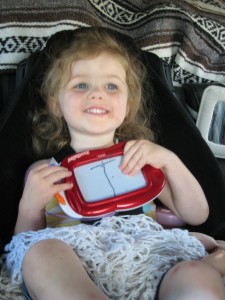 followed by the letter "A" (which she would not let me photograph) and then a drawing of herself: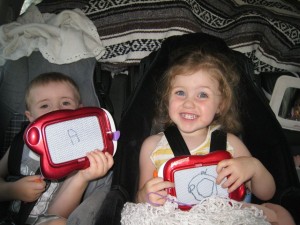 anyone know what dam this is? it's in oregon: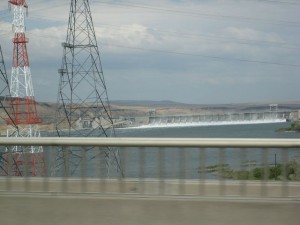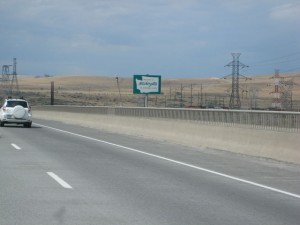 we stopped for gas in a little town called GRANGER, Washington. it's an interesting little place, for sure. see, back in 1993, some people in the town got together to decide how to bring more people to Granger. their answer? dinosaurs. seriously. dinosaurs.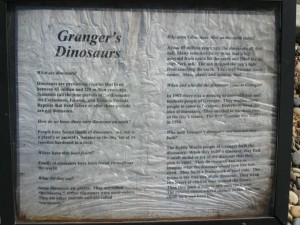 those silly Granger-ians!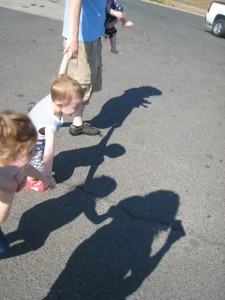 we drove through a very WINDY southeast corner of the state. we stopped and bought rainier cherries. we finally hit Bothell and enjoyed a nice (if not LONG) dinner break at an Outback Steakhouse before arriving home late.
our trip was wonderful. we drove 6,890 miles. in 23 days. we drove through 18 states. we stayed in 3 hotels and 6 homes. we enjoyed the majority of the trip. it did not feel like we were gone for over 3 weeks.
and as crazy as it sounds, we're thinking of doing it again. maybe in a year. maybe in two or three years. but again. but how does a flight to Maine, a rental mini van driven from Maine to Florida and a flight home from Florida sound? yeah. we know we're crazy. but it'd be another good adventure!
thanks for taking a look back at our journey with us. blog posts coming soon:
- alex turns ONE!
- davey turns FOUR!
- celebrating NINE years of marriage!
- dave turns (ahem!) another year older!