dad preached on sunday. sterling, rachel & amity drove up from seattle to hear the sermon and enjoy an afternoon with the rest of us. jeff was working & taryn was out of town, so we were short one sibling/family, but the rest of us had a great time AND enjoyed some DELICIOUS ribs and a FLOURLESS chocolate cake!
i enjoyed watching amity and alex "meet" each other (neither one was aware of the other when they really met back in early march)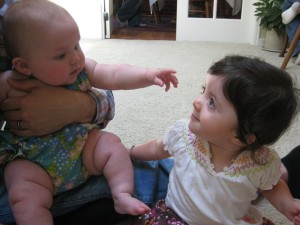 alex serious and alex laughing:
who knew sam's jumping abilities would be such a delight and surprise to family?!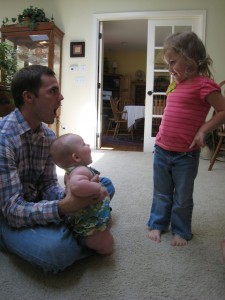 for dad&mom, it was a BIG DEAL day b/c it was the FIRST TIME that they've seen ALL FOUR GRANDCHILDREN in ONE ROOM at the SAME TIME. yep. so we had a photo session with several cameras and lots of photos and very few "decent" shots, though in a series, they'd be hilarious!
it was a beautiful day, so some people ate outside. the kids played outside. the adults talked outside. i think summer may FINALLY have arrived here. finally.
(i love that second photo!)
and then we all wandered back inside. and here you go… a 4-year old, an almost 3-year old, a 1-year old and a 6-month old… none of them had a nap… and none of them really wanted to have their photo taken for a "cousins" shot… and none of them liked having 100 photos taken… but i think it was worth it, even though none of the photos are great….
and this sweet little girl… well, perhaps not so little? she looks like a little sumo wrestler with her roly poly thighs (which you can't see in THESE photos), but she doesn't weigh much. and her feet are TINY. and she is ADORABLE:
just the GIRL cousins:
but poor AMity definitely has a breaking point… and apparently 100 photos from 4 cameras creates that "breaking point:"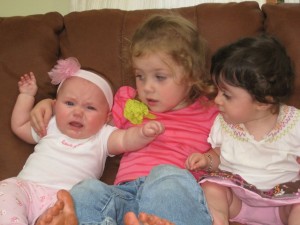 (i love this photo of alex… not sure why)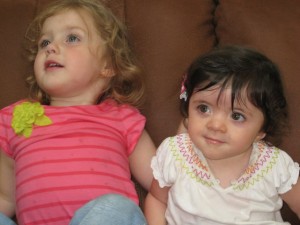 and sam had a pretty cool braided hair do going on… compliments of ME! PLUS i think sam looks like she's teaching alex something in this photo…. a tender "big sister" moment: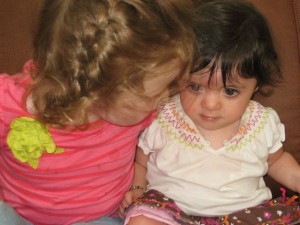 and i must apologize to my father (in law) for this photo… but i couldn't NOT include it in this blog post. he is following in the footsteps of his own father (and doing a darn-good job, i think!) by napping while all kinds of commotion is happening in the same room (namely, all the COUSINS photos!)! so dad, i'm sorry. but i had to share it. i know you'll understand. hopefully.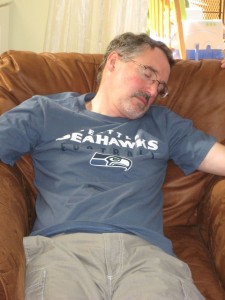 and that was my glorious sunday afternoon.