we left Ohio bright and early and set out for our longest day yet…. 800 miles to Olathe, just outside of Kansas City, Kansas.
i was EXTRA thankful for a sweet goody bag from Aunt Marcia (and the boys). there were chocolate bars, Nips, snacks, rolls of coins for the tolls (which we encountered going east out of Ohio but not west) and a ring for me (i had admired it when Aunt Marcia wore it…). the goody bag contained these things, which i haven't eaten in years: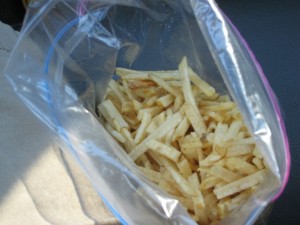 yep. shoestring potatoes. kinda like a potato chip only in shoestring form. mmmmm. salty!
i believe davey was "resting" and alex was sleeping but samantha wanted nothing to do with those activities. she was ready for action, but since she was strapped in her carseat, there wasn't much she could do. all day she demanded (and yes, i do mean "demanded") to draw.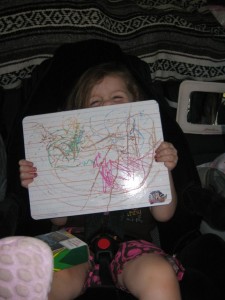 i was VERY thankful for the $1 boards i found in the Target Dollar Spot a year or more ago. and i was EVEN MORE thankful for the $4+ write on/wipe off CRAYONS i found at Target the week before our trip. worth every penny for 8 crayons.
we saw lots and lots of signs on our trip. you can only imagine how many signs.
found this city on a map. then saw the sign for it on our way out of Indiana. makes me laugh. every. single. time.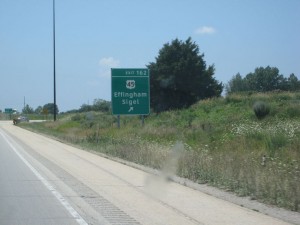 i wonder if they'll ever rename the city?
our iPhones came in QUITE handy at finding restaurants, super center walmarts and local parks, among other things. on the drive from Ohio to Kansas, dave even used it to find a yummy dinner for us (me):
alex loved the high chair b/c her legs were long enough to reach the "foot rest" so she could stand up. and the buckle was broken, so she wasn't fully strapped in. we don't need to be reminded about samantha "climbing" on the chair which led to it hurtling forward and smacking into our table…. while alex was still (not strapped) into the highchair….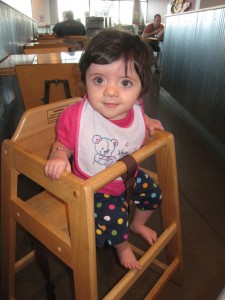 and then it got dark. pretty quickly, or so it seemed.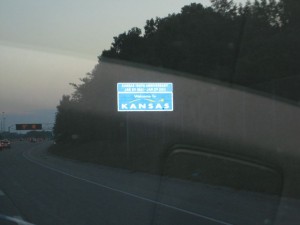 but we made it to kansas. and awhile later, to zach & sarah's house.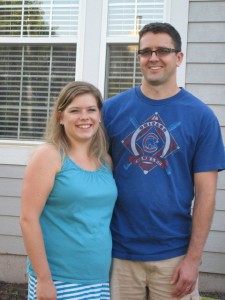 zach was one of dave's college roommates. but they have three kids, Isaac, Brooklyn and Alexandrea (Alli) who each range between 4-7 months older than each of our kids. talk about perfect playmates!
it was RIDICULOUSLY hot in Olathe, Kansas. with the heat index, it was up to 115F. yep. that's pretty hot. so for our adventure of the day, we headed to the gym:
to enjoy one of the coolest pools i have ever seen:
it's a 0-grade entry pool. that means it's like the beach without the sand getting all caught up in your bathing suit and hair. GLORIOUS!
dave and i could've enjoyed it ALL DAY long. and i do mean "ALL." the water temperature was perfect. the kids loved it. so why did we leave? the kids DID need naps (our Munchkins and the Taylor's kids). and i forgot alex's bottle back in the kitchen. 20 minutes away. yep. i did.
following naptime and some indoor playtime for the kids, it was time to go enjoy some BBQ…. Kansas City style. when i stepped out of our pathfinder in the parking lot of the restaurant, i called out to zach, "this is gonna be GOOOOOD!" i could SMELL the meat smoking. or the smoke from the smoking meat. it smells good. like smoked meat. the aroma hung heavily in the air and my mouth began to water. mmmmmmm.  but i was too busy EATING the delicious food to take any photos other than these:
so you'll just have to trust me (and dave) that it was DELICIOUS. and if we're ever back in olathe again? yep. we're going there (sorry, Sarah, i know it's not your favorite)!
we headed home where some of the kids ran around in the backyard and jumped on the trampoline. (sarah sent me some photos of Isaac and Davey on the trampoline. at one point, they decided they could jump better/higher if they had their shirts off. cute kiddos!). ice cream was part of the evening's agenda, too, though us grown-ups never quite got in on the action (too much BBQ, i think!):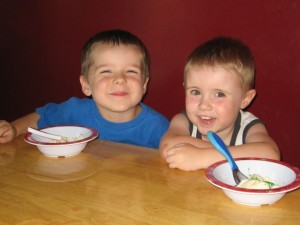 many, MANY thanks to zach and sarah and Isaac, Brooklyn & Alli for a WONDERFUL first visit to Olathe. we pray it was not our last!
(and here's Alli, the only photo i snapped of her during our short stay):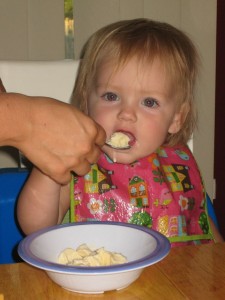 in the morning, we loaded back up and headed to Boise, Idaho….