so i bet you want to know how i'm doing with my TO DO list that i posted earlier this week. it's 9:32 on thursday evening as i type this. i only have two days left to complete my list. i'm making progress, but i am no where NEAR finished. i have, however, already created a "to do" list to share with you next week. what do you think…. should this become a regular feature here?
so here's an update:
1. take photos for etsy: i've taken some photos but i not all/enough
2. add some new product to etsy and re-add some prior items (my rings all dropped off!): um…. perhaps refer back to #1…. or maybe i'll list a few things tonight after posting this?!
3. add dirt to plants (re-pot some as needed): there's a reason i've been putting it off for months…. i hate doing it, so NO, it's not done yet!
4. attend ZUMBA class (tuesday night and maybe saturday morning): Tuesday night: check!  saturday hasn't happened yet
5. design the felt frog: check! i have to shrink him down a little, but otherwise, here he is: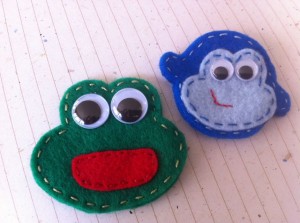 6. finish necklace tagging & display update at Dutch Mothers (my local consignment location): check & check! it's my FAVORITE look thus far… it's a little bit "boutique-y" and it's EXACTLY the look i'm going for!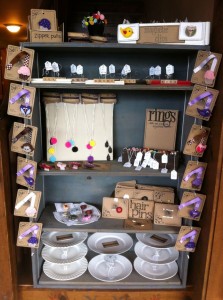 7. walk with Karla two mornings (Monday & Wednesday): check!
8. paint some frames/shadow boxes (for fall show products): check! there's some paint remains on my grass… well, maybe a little more than "some…"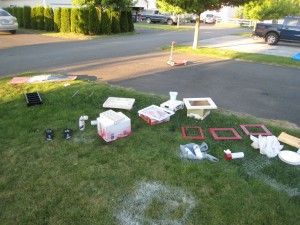 9. plan (and possibly MAKE?) a few freezer meals for several friends who have "recently" had a baby…..: um. i usually do chicken teriyaki. but i haven't gotten as far as buying the chicken yet.
10. package several baby gifts for the mommies: Christy, Ali, Susan: progress made (baby items gathered and bagged but project NOT complete
in addition to the above items, i've done some extras….
- created a few sample infant/toddler headbands: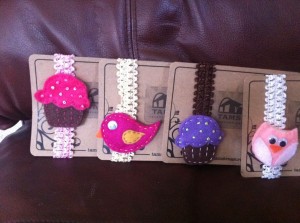 - ordered more of the above headbands (minus the felties – those are mine!) and they arrived TODAY, so now i have 50 more to make!
- scheduled and participated in "work night" at Karla's house (to make more stuff for the craft shows this fall)
- ran errands today with ALL THREE CHILDREN (mostly to buy more supplies for my craft show projects)
- made room in the garage for Dave's car
- dug out baby girl clothing to give to a friend
- dug out maternity clothing to loan to the same friend
- spent over an HOUR doing my "grown up" job but not getting paid b/c i had to simply reinstate my authorization to several programs. sigh.