following our SHORTEST day of travel (only 461 miles!), we arrived at nana's house and it wasn't long before our feet were cooling off in the pool: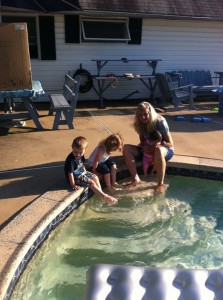 the evening was hilarious, as davey and samantha followed nana around the house (and outside) like the Pied Piper. they helped nana do some chores, including grouting the brand new downstairs shower (the tiles were set just 15 minutes before we arrived)!
following church on sunday, we returned home and found some more family… John, Babi and Wendy drove down from NYC to spend a few days with us! our two days together (Sunday and Monday) revolved around food (and lots of it!), ice cream (and lots of it!), the pool, sunshine, heat, humidity, laughing, sharing, photos, shopping (for Babi and I), swimming, presents, birthday celebrations, aunt-uncle-and-cousin bonding time (davey was OVER THE MOON for wendy and samantha enjoyed her company quite a bit, too) and more. i'll have to try to snag some photos from my brother and i haven't taken any photos off dave's camera yet, but here are a lot of my favorites: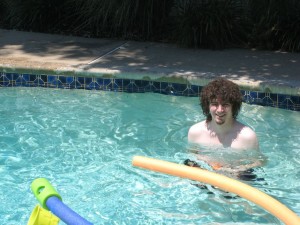 (dave's wet dog look – we realized he's never before gone swimming when he's had an afro!)
a special treat…. wax bottle juice (did you ever have these when you were little):
relaxing in the hammock: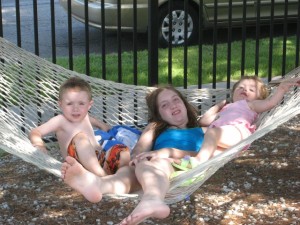 nana found a little pool just for alex…. she liked it a lot:
auntie babi loves her nieces and nephew. she wanted to have a special bond with the baby: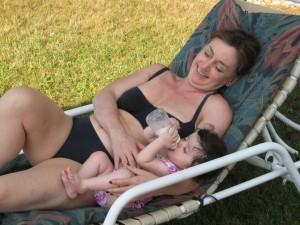 davey feeling a bit "brave" to chill on the raft: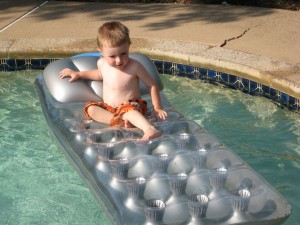 snack time: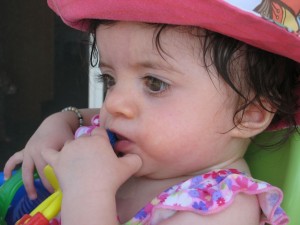 perhaps this is my newest favorite alex photo: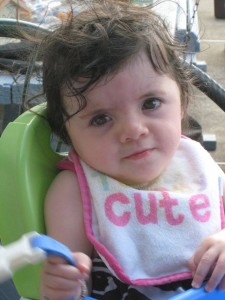 swinging at the "park" down the street: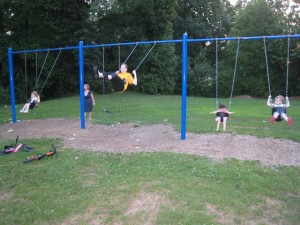 a visit with great-aunt hob (she's my mom's aunt… so my great aunt, so a great-great aunt to the Munchkins):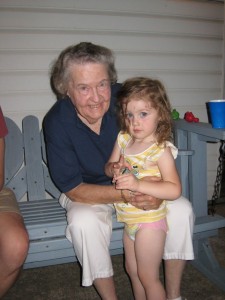 samantha enjoyed being the center of attention/entertainment one evening: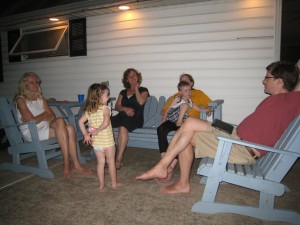 bonding time for alex and uncle john: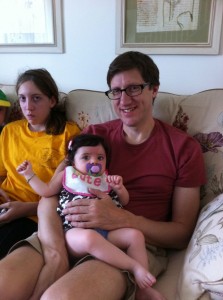 and snuggle time for davey and cousin wendy (i tell you, davey was ATTACHED to this 12-year old girl!):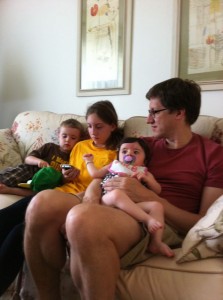 i LOVE this photo of samantha… so does auntie babi. those two had a special bond because they both LOVE to eat. and i do mean LOVE. and i do mean EAT!  :)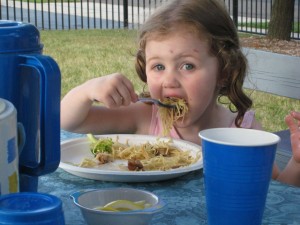 while we were together as a family, we had a small birthday celebration for alex and davey. alex seemed to enjoy her yellow daisy cake: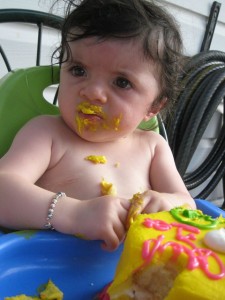 but shortly after this photo was taken there was an explosion out of her mouth. i apologize to my family that they had to witness that!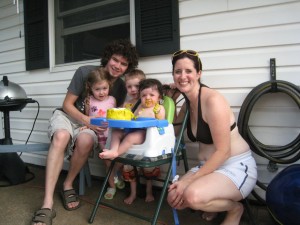 davey (and everyone but dave) thoroughly enjoyed his ice cream birthday cake: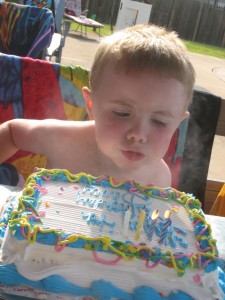 and when it was time for presents, as he opened the first package he uttered, "i really hope it's something i want!"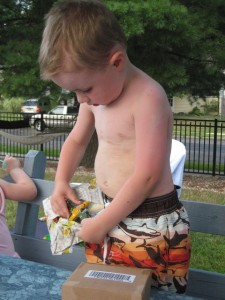 and it was…. he wanted an airplane that could fly in the sky. many thanks to wendy (babi!) for the brazilian-colored matchbox plane!
and just a few other random shots:
it was NOT easy saying goodbye to John, Babi and Wendy on Monday evening, but it had to be done. we made it fun by taking some photos on the front lawn….
i will treasure these for years…. for it may be that long until we're all together again.