have you ever seen that reality tv show about Jersey Girls? or is it the Jersey Shore? whatever the case, it's part of the east coast experience. and how could we possibly drive across the country from our little neck of the woods to the east coast and not "finish" the journey so we could say we traveled "coast to coast?!"
on wednesday, july 13, alex woke up congested. not as badly as when we started our trip, but still enough for the morning to not go very smoothly. so even though it was her birthday (poor thing was sick on her FIRST birthday!), we left her behind. she and nana had a wonderful day and we KNEW she would be well loved. that decided, dave and i took davey and samantha to the atlantic ocean. we journeyed to Island Beach State Park and enjoyed our adventure despite the crowded beach, the sand flies, the overcast skies, a few rain drops and the COLD atlantic (it's usually SO WARM – can anyone tell me why it was COLD?!).
the boardwalk from the changing rooms and rest rooms to the beach: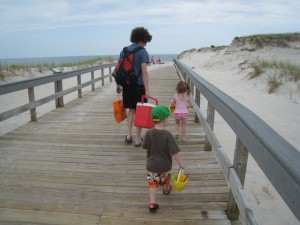 the colorful umbrellas and the sand dotted with sheets, towels, blankets, etc: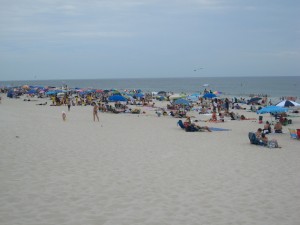 thinking about getting wet:
with our children, samantha is normally the BRAVE one. the VERY brave one. and davey is usually more reserved. so we were pretty SHOCKED to have this be the "norm" for our day at the beach: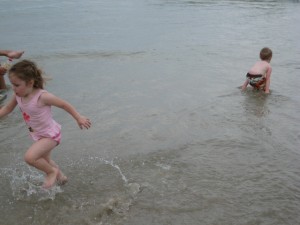 sam was busy running out of/away from the water while davey enjoyed jumping and splashing in it!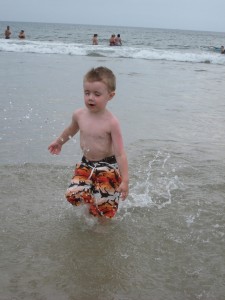 after awhile, dave was even able to convince davey to join him in the deeper water (though davey insisted on being held the entire time). sam finally decided she wanted to be out there with davey, too, so i put my camera down and EXPERIENCED LIFE with my family. it was FUN. but then sam was afraid of the bigger waves and she was pretty much finished with the ocean….
(and yes, there are a few photos of me at the beach. i believe they are all on dave's camera.) i attempted to build sand castles with the kids but sam kept destroying them. we started to dig a hole but i (internally) freaked out a bit when i saw some tiny "organisms" in the water that filled the hole.
within 3 minutes of being buckled into her car seat (post shower, changing back into clothing and loading everything into our vehicle), sam was OUT LIKE A LIGHT: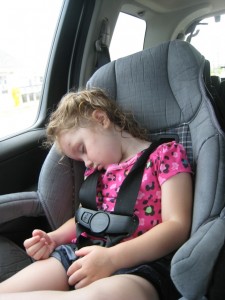 and we had to wake her up for our "special treat" – ice cream at The Sundae Times (a little mom&pop ice cream shop that does NOT accept credit or debit cards).
and within 20 minutes of getting back in the car after that surprise stop, this was what we saw: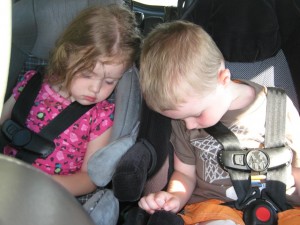 davey was out first (within about 5 minutes of getting in the car). sam took a little longer ('cuz she had that 5 minute snooze BEFORE we got ice cream).