dave DID get me to the auction on time on friday night. with that delay on the PA Turnpike, we didn't think we'd make it. but we did. many, MANY thanks to my kids for surviving the drive with very few stops. it was my first auction. i entered, registered and then said "hey!" to aunt ibby and uncle arnie before i wandered around to look at the goods. the room was PACKED with people AND with STUFF. several old printer's trays. a lot of old cameras. a few other things i had my eye(s) on.
and then it was time to get started. and i think for the first hour i sat with my mouth gaping open. a cardboard box of random sterling silver pieces went for around $800. yes, that decimal point is in the right place. and there was lots of jewelry than went pretty high, too. and furniture. there were also a lot of really NICE things that went for cheap. it was wild. the auctioneer, Kathy, was great. she's got the fast "auctioneer speak" down and she knows if you're only scratching your head or if you're really bidding (because i was TERRIFIED to scratch my head…. or my nose…. i really didn't want to bid on anything spendy!)! after the first hour, i felt somewhat prepared for my items to pop up. after the second hour, i was losing interest. and it was somewhere in the 3rd hour that Uncle Arnie had a talk with Tom (Kathy's husband) and got those printers' trays to the front of the room. by this time, however, i knew how it worked. so i waited. she started at $50 each. then $40. then $30. then $25. then $20. and finally, she said "will anyone give me $10 a tray?" and following a brief pause, she said "this is it, folks. that's as low as i'm going" (though she said it fast in her auctioneer-speak WITH a strong Ohio-an accent) and i scrambled to find my number and i shot it up in the air. upside down, apparently.
and i WON my choice of tray(s), though i wasn't quite sure at what price. i bubbled over with joy… adreneline was COURSING through my entire body. i jumped out of my chair to go choose which one(s) i wanted. i felt (and acted) like a contestant on the Price is Right… you know how those contestants act when they get called to Contestants' Row?! and just as i got to the "aisle" to go up and make my choice(s), i realized that i had won them at ONLY $10 each…. so i took all 3!!  (i could make this story longer by talking about the one i almost bought in lynden for $35 or the other one i almost bought in lynden for $40, but i won't go into any more detail than that).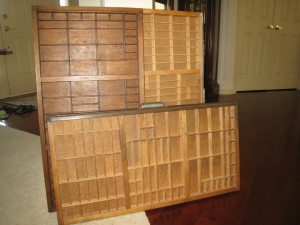 and while i was at the auction, dave took the kids to arnie & ibby's house to unpack our car. the kids were roaming free while he did the grunt work. what we found the next day was a salt & pepper shaker on the front porch. and a planter with quite a bit of salt and pepper inside!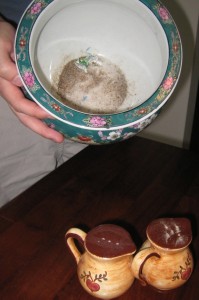 and later on saturday, ibby and i learned that the kids were "feeding" arnie's outdoor plants (with more salt and pepper). if you know uncle arnie at all, you'll know that this is a BIG deal. they have a GORGEOUS back (and front!) yard and he has spent hundreds of hours working in their yard (he's now a retired school teacher – junior high science). on top of "feeding the plants," i also found salt and pepper inside one of the toy picnic baskets…. with LEMONADE. davey oh-so-logically explained that they were using their lemonade to clean out the salt and pepper. [duh, mom!]
following the "cooking" incident on the front porch, dave loaded the kids back into the pathfinder and drove over to eat, play and visit with uncle jon, aunt marcia and cousin jonathan. from what i hear, there was a LOT of crazy fun happening!
and then on saturday, dave took an opportunity to get away and kayak with uncle jon and cousin jonathan on black river. the only photos i have are from uncle jon's camera phone.
while dave was off working and playing, the kids, ibby and i hung out around the house. davey wanted to play the piano like aunt ibby ("wiff all fingers")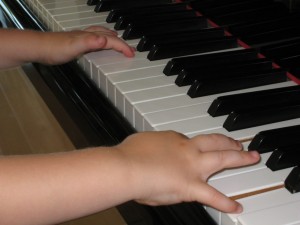 and we played outside with some toys mommy packed for the trip:
and we played inside with blocks:
and alex practiced carpet swimming: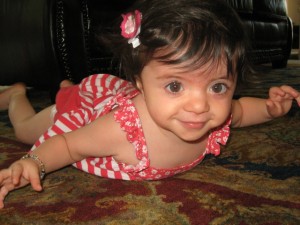 and then we all had a very nice NAP before heading to grandpa&grandma's house for dinner. and following dinner, there was lots and lots of family fellowship time.
and great grandpa tried to eat samantha's lollipop MANY times:
and a very special moment occurred when samantha found great grandpa's Bible and carried it "very carefully" to the couch so she could read a story to her daddy: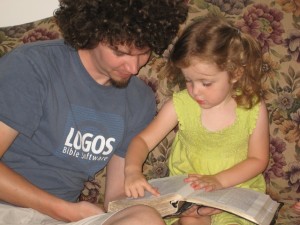 unfortunately for samantha, the story of Peter Rabbit, Flopsy, Mopsy, Cottontail and Mr. MacGregor is NOT included in great-grandpa's Bible.