after months of prayer by family, friends and strangers from around the world, one year ago today,
alexandra daisy sue dunkin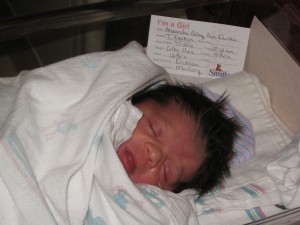 was born. she immediately captured our hearts and made our family complete.
from day one, she has been a relaxed, easy going baby. she was my largest at birth (all 6 pounds 11 ounces of her!) but she is my smallest baby at one year (weighing in at just over 15 pounds). she is an observer and a serious child. laughter and smiles do not come easily but when you get one… you sure know it! and her favorite people? davey and samantha, of course!
i feel like i'm not in the right "place" to do a "year in review" post of sweet alex right now. i'm in my mom's living room and i'm feeling the "pressure" to share thoughts and photos of the Pennsylvania portion of our trip since it's almost over (and i want to write it down before i forget it!). so is it okay if we do a belated "year in review" post of alex? perhaps in mid-august… i'll be home and i will (hopefully) have recovered from this wonderfully crazy road trip adventure of ours!
i still can't believe she's been with us for a whole year (and yet ONLY a year)!
while you wait for me to do a recap, here's a LINK to dave's thoughts on Alex/Daisy's story….