We pulled out of the Wickland's driveway on Monday, July 4th with a very patriotic destination for the end of the day….. Mount Rushmore. We had a long, but fun journey in the Pathfinder.
Funny quotes from the morning?
- 11:12 a.m., while shaking her head, Sam said, "I don't want to go on a trip."
- 11:13 a.m., Sam quickly changed her mind and said, "I do now!"
Our best unexpected find of the day? A Super Center Walmart in Sheridan, Wyoming and Marshall Park, just a few blocks away. Dave and I enjoyed lunch from Walmart and the kids had PB&J and played on this cool, fish-themed play structure. It made our afternoon of driving a bit easier, I believe.
(i'll have to steal dave's phone for some photos… he has one of me going down the slide WITH the kids!)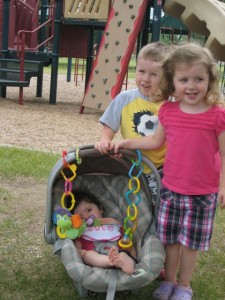 We ended the driving portion of our day in Rapid City, South Dakota. We drove into town, headed straight to Mount Rushmore and enjoyed the tourist area for a bit before heading back into the city for a (very) late dinner and hotel stop. On the drive back into the city, Davey said, "There are 4 people on the mountain; they do not talk." And Samantha, upon hearing the number "4," piped up, "Isaiah is five!"
this photo was on facebook, so for many of you, it's a repeat, but it's worth sharing: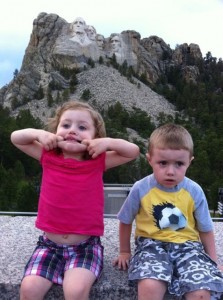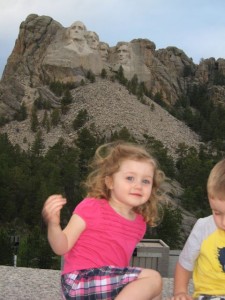 we did get a photo of all 5 of us (many thanks to a kind stranger who offered to take our photos within minutes of walking into the park area). it may be our Christmas card photo. MAY. and i will share it at some point. but i have to find dave's camera, first!
Memories from this day?
- Alex slept almost ALL morning
- Wyoming is E.M.P.T.Y (as in: unpopulated)
- lots of deer sightings in MT and WY
- strangers (possibly eastern Europeans) wanting a photo with Samantha at Mount Rushmore
[side note: Aunt Mary, Dave's mom's sister, showed us a tabloid paper from Denmark a few months ago. Apparently the Princess of Denmark looks just like Samantha!]
- getting back to the Pathfinder, only to discover that I neglected to take a photo of Mount Rushmore with my brown camera (aka: my Fuji instax mini – a mini polaroid camera). Dave told me "go." So I ran up through the parking lot, up all the stairs, through the entrance, down the row of flags and to the Observation Deck where I snapped a photo with my camera. And then I ran all the way back to the car. And photo? Yep. It was too late. Too dark. It is of nothing.
- dinner at 10:00 p.m. at Denny's
- checking in to room #424 at the Ramada Inn in Rapid City, only discover it was a USED room.
- getting upgraded to room #521 which was MUCH BIGGER and NICER (and what we expected in the first place)