i cannot believe i haven't posted about Ohio yet… boy am i ever behind! i will once again attempt to update with some basic details, some fun photos and not overwhelm you with either. (please note: i said "attempt.")
We spent two full days in Ohio, visiting with Dave's grandparents and two aunts & uncles. I can't believe how much LIFE we packed into those two days, though we didn't go anywhere or "do" anything. we ate lunch with family. we played. we napped. (well, dave and the kids and great grandpa and great grandma napped). we played some more. we ate some more. and we just loved being together. it was wonderful and it was the perfect *break* before getting back on the road to Pennsylvania to continue our journey east. but, as usual, i digress.
Thursday, July 7
we slept in (until after 8)! we took our time getting dressed and ready for the day. the kids played. sam really enjoyed being outside in great grandma's yard. and she was a VERY GOOD helper in watering great grandma's plants and flowers: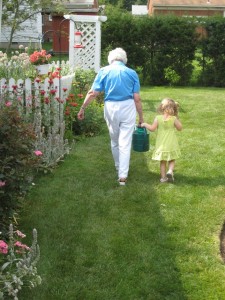 (that's one of my favorite photos from the entire trip thus far. and great-grandma will hate it because it shows her backside. sorry, grandma, but i love this photo. LOVE it.)
during the heat of the day, i escaped to the mall with aunt marcia and aunt ibby to get a pedicure. i have a WONDERFUL photo of ibby enjoying the foot massage portion of her pedicure but i promised i would NOT share it on facebook. i didn't specially state that i wouldn't share it on my blog, but seeing as how i will be sleeping under her roof very soon, i think i'll keep that photo off the internet. i need my hostess to like having me and my camera around!
i'll take any opportunity possible to try to snap a decent shot of my three munchkins. this is the best it got: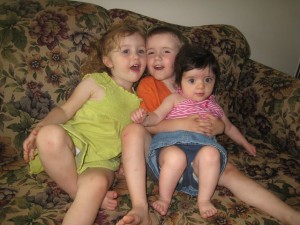 aunt ibby meeting the youngest dunkin: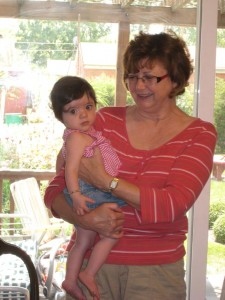 davey found this watch in great grandma's toy box and wouldn't take it off. she told him he could take it home. he almost never takes it off. he thinks it's so cool. i love that about him. i love that he's growing up into a little boy (sniff! sniff!) and has his own opinions and thoughts and desires (even when they clash with mine…. such as every sunday when he refuses to let us spike his hair)!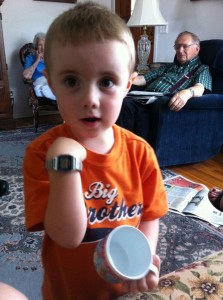 when i got home from my afternoon activity, i discovered these two doing some special bonding: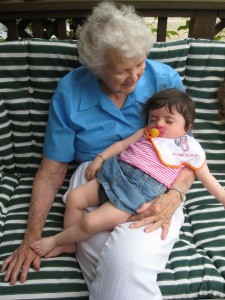 great-grandmas have a special touch with the great grandkids, don't you think?
who could resist this sweet photo?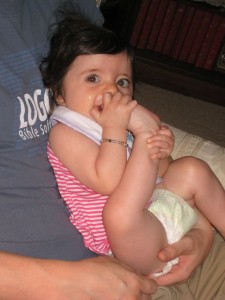 that evening, it was time for the family to gather (again) and this time we added uncle jon to the mix. dinner was at uncle arnie and aunt ibby's house. [have i previously told you that uncle arnie grew up in lynden? seriously. it's a small and crazy world. remember that yellow house that dave and i thought we were going to buy earlier this summer? yeah. that's right around the  corner from one of arnie's brothers. yep. small world, indeed.]  after dinner, samantha and ibby had disappeared and i discovered them outside doing this: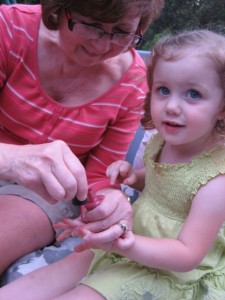 sam's VERY FIRST painted fingernails AND toenails. she was SOOOOOO excited!
davey enjoyed the cars and lincoln logs that aunt ibby had for him to enjoy. uncle jon thought they were pretty cool, too.
(sorry ladies, it's the only photo i had of all of you that night! i need to point out that aunt marcia is wearing the coolest necklace – it's part of an ACTUAL KITCHEN UTENSIL. how cool is that? i think i need to make one. or buy one. it'd be easier to just buy it!)
at one point in the evening, samantha had disappeared under the table with one of ibby's dolls. the doll's clothing had been stripped (a favorite past time of samantha's) and she had, apparently, been somewhat naughty (the doll, not sam) because she was being spanked. repeatedly. it's one of sam's favorite things to do with her dollies. i don't know why. she doesn't get spanked THAT often!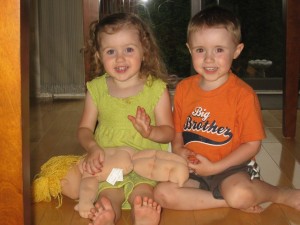 but davey decided to join her under the table for a few photos… and i LOVE that they're both smiling AND looking at the camera!
davey was pretty upset that his toes were plain. telling him that nailpolish is "only for girls" doesn't really help, either.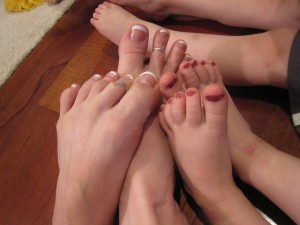 aunt marcia meeting the youngest dunkin: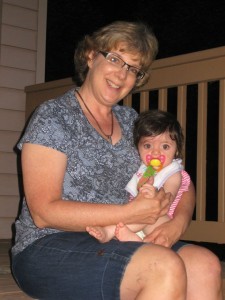 davey and samantha and i did chase (and catch) lightning bugs. or fireflies, as davey insists on calling them. it was their first experience with those critters. davey even managed to actually catch a few on his own. without squishing them. samantha's another story. but she's only 2 and a half!
and i am now exhausted and am going to bed. i will do my best to finish up with an Ohio update AND a Pennsylvania update sometime tomorrow. SOMETIME.