please pardon my memory and my sharing as i backtrack here to finish up our wild and crazy 23 day adventure!
on monday morning (july 18), after a fun and full sunday, we had to say good bye to cousin jonathan, who had to return to work (late):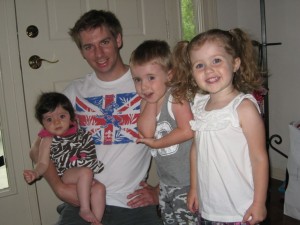 we enjoyed playing and eating lunch at great grandpa & great grandma's house. did you know that great grandma (dave's grandma) is VERY stylish? just check out her cool kicks:
does YOUR grandma wear cool shoes like this? nope? i didn't think so. grandma is one of a kind…. i LOVE you grandma! ('cuz she's also cool enough to read my blog regularly)!
dinner was at aunt marcia and uncle jon's house. they own the dune buggy we drove around elyria in THIS post. and the one the kids' played in as shown in THIS post. along with pulling out some of cousin jonathan's old toys from the attic, uncle jon bought the kids their own (mini) dune buggies: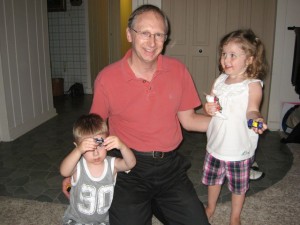 it's hard to see in the photo, but he bought them their own matchbox dune buggies. their cars are purple: it was the closest he could find to his dune buggy's color. despite that, they still wanted his other mini dune buggy (which is the KEYCHAIN that holds the KEYS to his REAL dune buggy)!
that piano was pretty cool and it occupied the kids (and a few adults) for quite awhile (AND it kept the kids off the REAL piano) but when this LEGO bucket full of old McDonald's happy meal toys arrived: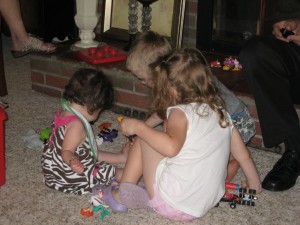 all three kids were playing and playing and playing and playing and playing for well over an hour. who knew that "free" toys, over 15 years old, from mc donalds could provide so many hours of entertainment?
i was attempting to get a wide angle/group shot here. samantha has a new favorite "face" to make for the camera: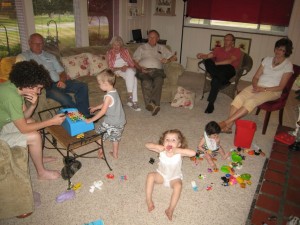 i think aunt marcia and i are the only two NOT in the above photo. sorry, aunt marcia!
TUESDAY: july 19 was a big day for the Munchkins. they got to see great grandpa & grandma along with REGULAR grandpa & grandma!
after a little enjoyment at the greats' house, we headed back to jon & marcia's house for lunch (uncle jon was at work, though). after lunch, dad and dave went to visit/tour uncle jon's office/work site. he even snuck them into the work floor (they were both wearing open toed shoes!) and he made a little souvenir for them on one of the machines. i'll have to show you that later (once i find it in my computer bag…. it's currently been swallowed up by all the papers, stubs, information pamphlets and more that i gathered on our journey!)
while the D2 and D3 were gone, Samantha was enjoying making tea (or was it coffee?) for great grandpa…. only he was asleep when she tried to share it with him: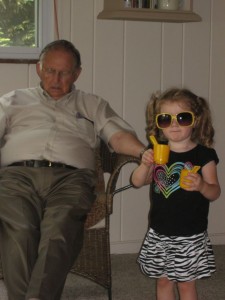 so then she found some other excitement in mommy's sunglasses and aunt marcia's shoes: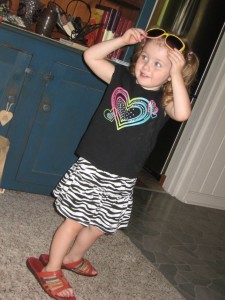 [we are in SERIOUS trouble with this girl. i have a feeling she will have a very, VERY large shoe collection... she LOVES shoes!]
it was time to head back to aunt ibby & uncle arnie's house for naps and prep time for the big birthday bash that evening. following a brief time of toy pot banging:
alex took a nice nap and so did the other two Munchkins: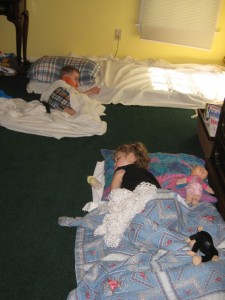 (i love that davey fell asleep on the FLOOR instead of on his MAT!)
when the kids awoke, the party was getting underway, as all the guests had arrived…. including REGULAR GRANDPA: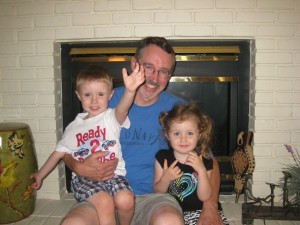 a yummy dinner was followed with various ice cream treats, including this "birthday party in a cone" that davey enjoyed: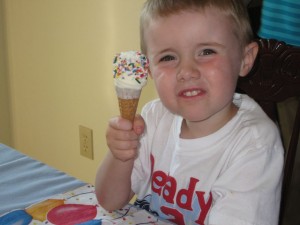 and cards & presents: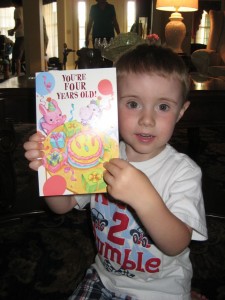 and then lots of picture taking and playing outside:
there are four generations of David C Dunkins in this photo. it makes my heart happy: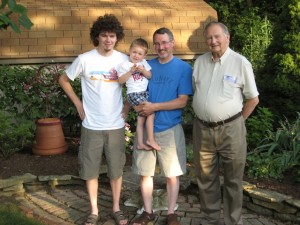 and here's the gang… my apologies to anyone who is not a "fan" of how they look in this photo. i might have better luck with one of the photos on dave's camera, but this is the only one from my camera: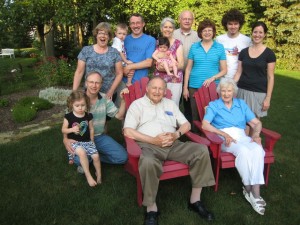 and i couldn't resist the opportunity for a new Dunkin Family of FIVE photo: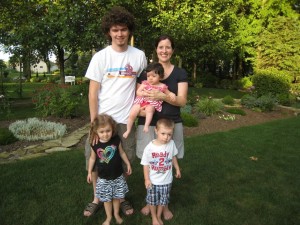 the kids couldn't get enough of uncle jon SPINNING them in the yard: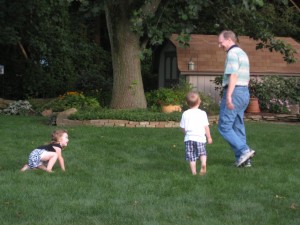 too bad Uncle Jon couldn't do it all night long… he got a little dizzy, too. so dave and i each tried to help out… and i don't know about dave, but i got REALLY dizzy!
alex's hair got really curly (due to the humidity, perhaps?)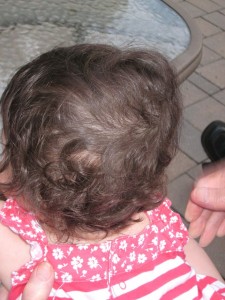 mom and dad were pretty tired, having traveled ALL DAY the day before and having a SHORT night of sleep, starting around 2 a.m.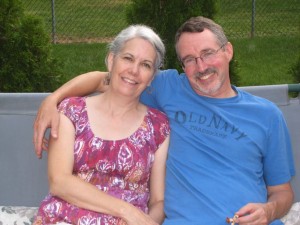 i neglected to pay enough attention to my children while they were blowing these bubbles (scented and from the Dollar Tree and they worked AWESOME!):
'cuz when they were "all done" they simply emptied the remaining bubble liquid onto the grass. sigh. sorry, uncle arnie!
and though this photo is very dark, what would a summer night in Ohio be without firefly hunting?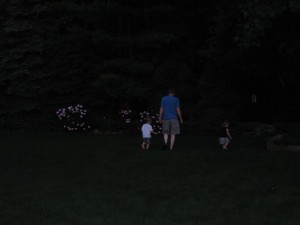 and then the party started to break up. people headed home. we made our way back inside. the kids found aunt ibby's massage chair (purchased for only $70 at an auction!):
and then we all CRASHED into bed… quite tired.