i must back up a moment. on wednesday night, after we arrived at great grandpa & grandma's house, uncle jon & aunt marcia came by for a little visit. they live just a few miles away and it was a nice, midwest summer evening, so they drove over in uncle jon's dune buggy.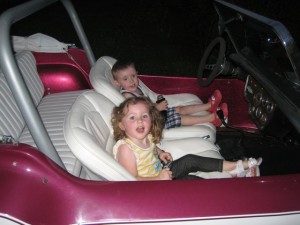 the kids LOVED playing in it!
they also loved sitting on the front porch with daddy and great grandpa. for some reason, great grandpa is the world's greatest climbing structure: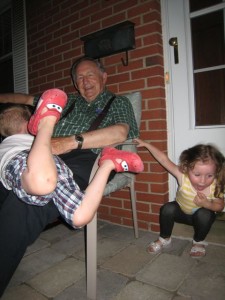 this pole is in the basement at great grandma & grandpa's house. dave remembers trying to climb it when he was a kid. and now our two older kids tried climbing it (and loved every minute of trying to do so).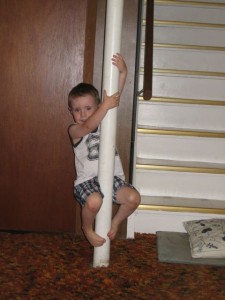 i love repeating family memories.
on friday morning, we sat down as a family of 4 (alex was napping) with dave's grandparents and watched the final space shuttle launch:
i'm still in shock and awe every time i watch the movie Apollo 13. the space program is so flippin' cool. it's hard to believe we're finished.
during the afternoon, while samantha napped and the greats did things around the house, i sat outside and enjoyed the warm summer air and the beauty of grandma's back yard: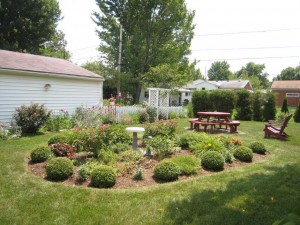 alex loved this toy at great grandpa&grandma's house…. her favorite part was the mirror, followed closely by the music: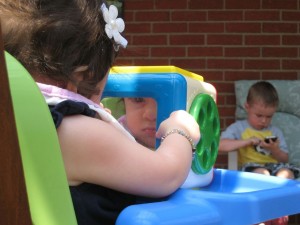 (notice davey playing with my iPhone in the background? this was day number 6 of our trip and it was the first time he had asked to play with my phone. that's pretty darn amazing for him!)
dave did a lot of this over the two days we were at his grandparents' house: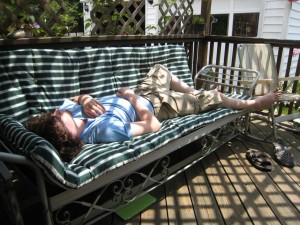 while i tried to do some of this: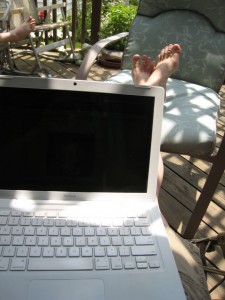 (moving photos from camera and phone to laptop and updating this blog!)
and we enjoyed lots and lots of random moments of LIFE with grandma & grandpa.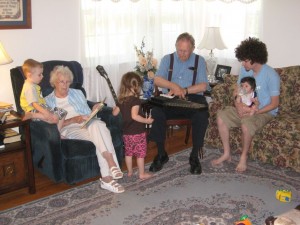 we're trying to treasure these moments. these are dave's dad's parents and they are the only living grandparents for either of us.
on friday evening, we headed over to uncle jon & aunt marcia's house for dinner (with the whole family). the kids enjoyed playing with toys aunt marcia had saved from cousin jonathan's childhood:
(i think that photo of alex is one of my new favorites of her!)
along with fun kids' toys, uncle jon has some fun grown up toys. well, not "toys," per se, but to him, they are. they're his inventions. he works for Ridge Tools and they create a line call Ridgid that sells nationwide at Home Depot (among other places, I believe). Uncle Jon has quite a few patents on various items. I don't know the details of any of them, but here's davey, playing with a gas detector (see… it's near alex's diaper…. he's checking for a gas leak!). i don't know what part of it uncle jon designed.
for dinner,we (easily) squeezed around the table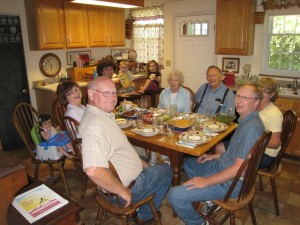 after dinner, we moved outside where shoes are optional: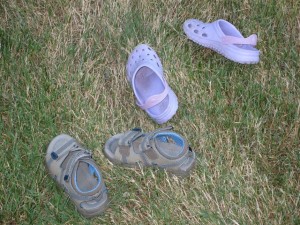 and where this little girl: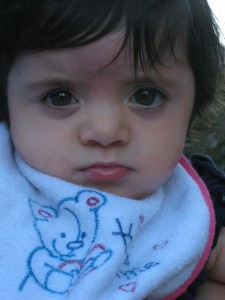 found joy in a simple rattle: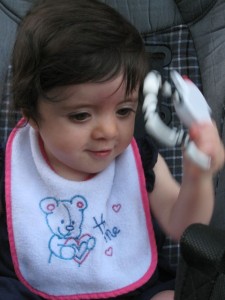 uncle jon was the hero of the evening by providing mirrors for the kids' bikes:
only i don't think this is how they're supposed to use them:
uncle jon and dave joined the bike riding melee: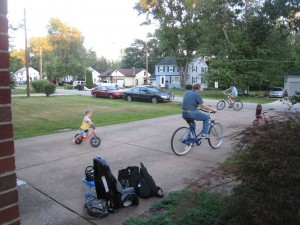 and then it was time for a ride in the dune buggy: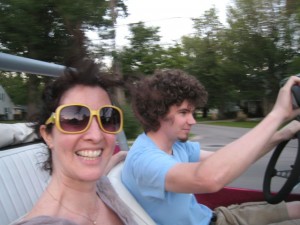 and when we came back, i found this: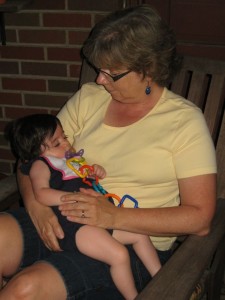 sorry grandma, but it was aunt marcia's turn to have the "magic touch!"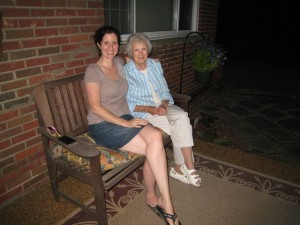 it wasn't easy to say "good bye" in the morning, but knowing that we'd be back in a week made it easier: