a sunday with the dunkins involves all kinds of fun activities…. all starting after church, of course.
we all met up after church at Wendy's (on Cleveland Street, not on Abbe Road!) for a tasty, non-spicy lunch. when it came time to eat, we segregated like they do at a junior high dance…. boys at one table and girls at another. alex made herself QUITE comfortable in a high chair. dave spilled the whipped cream off uncle arnie's milkshake (doh!) and samantha ate all of aunt marcia's fries (she even dipped a few into marcia's chili, though we managed to avoid any double dipping sessions!).
following lunch, we returned to our respective homes, changed clothing and met up again at ibby & arnie's place. the girls (minus sam and alex and PLUS uncle arnie) headed to Medina to the art walk/show and a few quaint shops on the strip.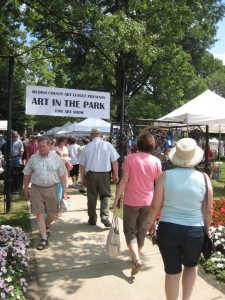 [i won't tell you that i bought a 3-pane window, KNOWING my husband would be quite frustrated with me for doing so]
the boys (minus uncle arnie but PLUS samantha and alex) played games outside and inside and then watched the USA vs JAPAN womens' soccer final. it was awful that USA lost.
then we enjoyed dinner and dessert and more time together as a family doing a whole lot of nothing:
perhaps i shouldn't say nothing when uncle jon worked up quite a sweat just trying to walk into the kitchen: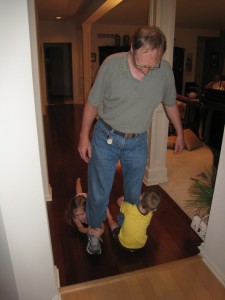 and once the grandparents and the company (ib & arnie's sunday school teacher – who LOVES Logos! – and wife) headed for home, we (Uncle Jon, Aunt Marcia, Jonathan, Dave and I – Arnie and Ibby watched) got down to business gathering snacks (including very, VERY old chocolate syrup for atop his ice cream.)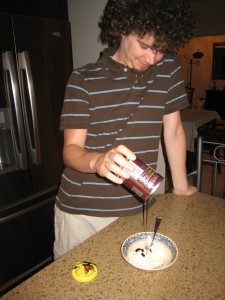 (what you can't see too clearly in that photo is the inside of the yellow plastic lid to that syrup. it's partly BLACK! i would like to point out that ibby threw it away AFTER dave put it on top of his ice cream!)
and heading downstairs to play Kinect (for the x box):
(believe it or not, those are the FLATTERING photos of me playing these games!)
these guys did some track and field games, including running a race with HURDLES: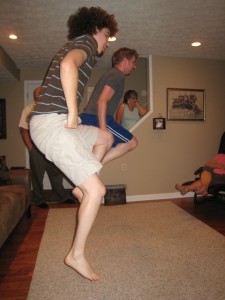 cousins: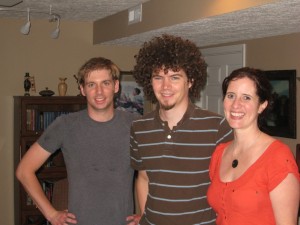 and when dave and i went to bed a little after 11, this is what our roommates looked like: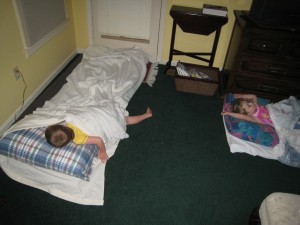 and it wasn't long before dave and i resembled them!