for our final day in PA, we relaxed and enjoyed our morning. i worked on some of the previous blog posts you've enjoyed. the kids played. dave was a handyman (new sliding screen door, downstairs phone installed on the wall and picnic bench repaired). and then in the afternoon, we had some special visitors.
this chica: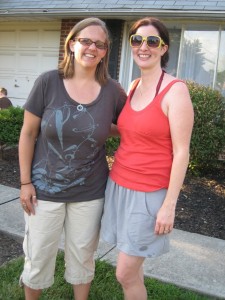 has been a blessing to me for a long, long time.
her name is Michelle (Rineer) Benner. and she calculated that we were 18 when we met (freshman year of college) so we have now known each other for HALF of our lives (or come this fall we will have). that slightly depressed me when i realized that…. 'cuz it means i'm growing older. but Shell has been one of my closest and dearest friends for the past 18 years. we met through some mutual friends our freshman year. we started running together (oh that low grade incline!!) and then when i transferred to another school our Sophomore year, she was the ONLY ONE who kept in touch (and this was BEFORE e-mail was commonplace). were in not for michelle, i probably never would have gone to school in Jerusalem, Israel (and my life would be VASTLY different right now!). at this point, i think it's been 5 or 6 or 7 years since we last saw each other and yet, we can pick up as though time has stood still. i LOVE and VALUE those friendships b/c i know they are rare gems.
so on this day, our last day in PA (thursday, july 14), phil & shelly drove 3 (?) hours south to spend the afternoon with us and our kiddos. between us, we now have FIVE children. Davey is 4 (almost!), Ari is 3, Sam is 2-1/2, Nate is 2 and Alex is 1. Ari and Nate are adopted and they are biologically brother and sister (and they're only 11 months apart). so it was a crazy day. but so much fun! we enjoyed swimming, swimming, swimming, laughing, talking, Papa Johns pizza for dinner, otter pops & ice cream sandwiches for dessert, bikes (davey and sam's), playing inside, playing outside, hugs, laughs and more.
davey was being a bit shy here and samantha and alex were asleep:
at some point, pretty early on in the visit, ari became dave's little buddy. i think it's the hair. ari has GORGEOUS hair. but it was a special bond that they shared. it was cool.
nate fell in love with alex. just wait a few more years, okay buddy, before you ask her to marry you?!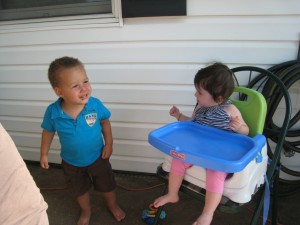 and i'd really like to commend ari and nate for being GREAT huggers. EVERYONE got hugs from BOTH of them… and usually more than one!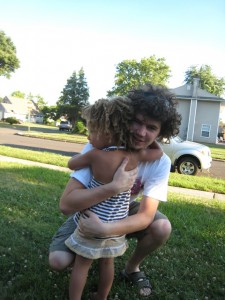 we couldn't let the visit pass without a fun group shot activity. i would like to point out that we took a grand total of TWO group photos. one "nice" photo and one "crazy" photo. pretty impressive with our assortment of characters, i'd say!
so many, MANY thanks to phil, shelly, ari and nate for journeying south to see us! we had a grand time with you and we hope it's not nearly so long until we meet again!