hotel accommodations at the upgraded Ramada Inn room before heading out for the day….
what we've done a LOT of on this trip: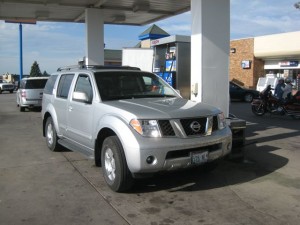 buying gas!
Tuesday (July 5) was probably the longest/hardest day of traveling because we knew there was nothing good at the end of the day other than a nice hotel room! We drove 775 and made it to a Holiday Inn in Madison, Wisconsin just around midnight.
Daily quotes:
"Hooray! We're home! We can get out!""We're just pretend[ing]." said Samantha at 7:08 p.m.
"My macaroni and cheese is made of macaroni and cheese!" said Davey at dinner
Memories from the day?
NO Starbucks and NO Caribou Coffee anywhere between Rapid City and Sioux Falls
SD is as E.M.P.T.Y as WY
The Missouri River is HUGE
Lunch while driving thanks to PB&J (the kids) and a stop at a HyVee (grocery store) for the grown ups
Potty break at the SMALLEST and MOST rinky-dink DQ we've ever seen (the bathroom was outside, attached to a different building, and was obviously added on to meet the building code!). We did, however, enjoy an ice cream treat while driving away, though it was dinner time!
NO open rest areas in Minnesota. Seriously. None. It was a huge waste, too, b/c I saw several really neat play structures (complete with swings!) for the kids at some rest areas.
Being passed by several semi trucks in WI while driving 5 mph OVER the speed limit, in the dark!
Dinner at Perkins in LaCrosse, Wisconsin and running in the sand afterwards