following such an eventful evening meant the kids needed a low-key day, even though it would be our final day in ohio. i had an opportunity to "escape" with aunt marcia, aunt ibby and my mother (in law) for some boutique shopping, lunch and antique shopping.
lunch was enjoyed at this cute restaurant called the Tree Top: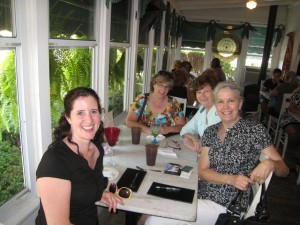 mom and i each had a spinach & swiss quiche (mmmm!) with a salad. ibby had the peach salad which was DELISH (i tasted it) and marcia had the BBQ chicken (pork?) pita which also looked yummy (and huge!). my lunch also included this YUMMY sangria: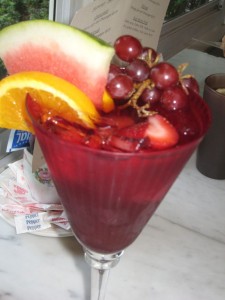 and then we were off to some antique stores (which are in old barns and old…. OLD and not air conditioned) houses:
two pieces we found that i loved but could not fit into my vehicle to come home (nor could i afford them!) were this old post office desk: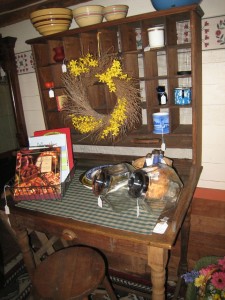 and this old jeweler's bench: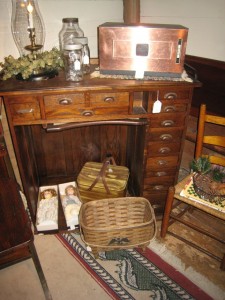 i found this cute picture about teething: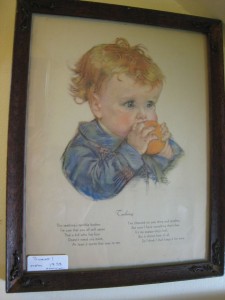 which was VERY appropriate, since alex cut her FIRST tooth right BEFORE our trip and cut her SECOND tooth DURING our trip!
here's a close up at the words: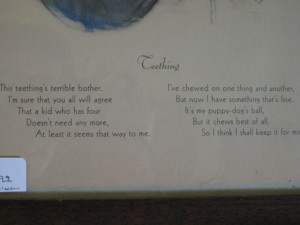 following some fun finds (i purchased 3 blocks, a tape measure, 2 numbers and a small printers tray/drawer – because the 3 i bought at the auction several days earlier weren't quite enough!) but far too much heat & humidity, we found our way to an air conditioned Caribou Coffee: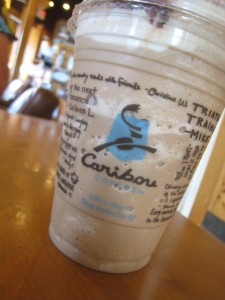 do you think it was wrong of me to ask "do you have anything that tastes like a mocha frappacino from starbucks?" when i placed my order?! (in case you're wondering, this is called a chocolate something-or-other…. far less "dramatic" or "enticing" than ordering a mocha frappacino…. but it did taste just like a mocha frap, so i was happy.)
when we got back into aunt marcia's car (we drove two cars to the first location and then all piled into one car after that), her dash showed a ridiculous temperature: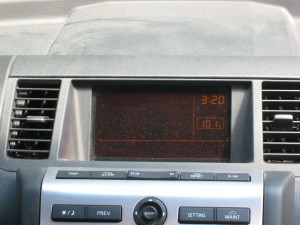 and yes, i do believe it was really that hot.
for our final day in ohio, we had dinner at great grandpa&grandma's house. and the whole gang was together one more time. it's hard to explain how ENJOYABLE it is to SIMPLY BE TOGETHER. we don't have to do anything. we don't have to go anywhere. dinner doesn't have to be fancy. it's just about being together. talking. laughing. playing with the kids.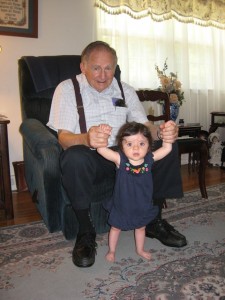 and even though great-grandma had far more cuddle time with alex, great grandpa did get some opportunities to love on the youngest great-grandchild. and he was pretty elated with her!
alex continues to be obsessed with hair. i don't think it has ANYTHING to do with her mommy or daddy's full heads of dark, curly hair!  ;)   we've watched her sit almost motionless for at least 20 minutes while examining a single strand of hair. she seems to be mesmerized by studying it:
and then, "just like that," it was time to leave. time for a final trip to SUPER walmart. time to return to ibby & arnie's house to pack up our stuff. time to say "good bye." i'll admit it, i almost cried. and i'm pretty sure i refused to say "good bye" to any of them.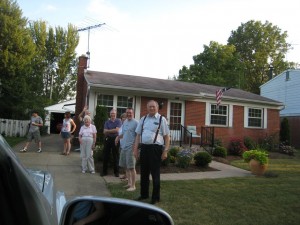 and then, after a short night's sleep, it was time to finish loading the car (please do NOT ask dave about the WINDOW i bought that had to be PACKED in our car!) and wave good-bye to arnie & ibby.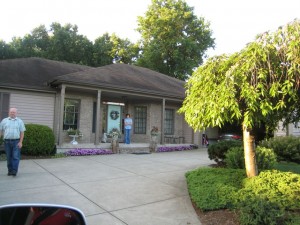 and with that farewell, our adventure in ohio was over and our vacation was coming to a close. super big sigh.