we're just a few weeks away from someone's 4th birthday. hard to believe that's possible. i'll save some "updates" of him for his birthday post, but here are some recent snapshots…..
at grandma's one wednesday, the kids played in the dirt so she washed their clothes during nap time and fashioned some other attire for them out of t-shirts and ponytail holders. davey enjoyed his so much that he wouldn't take it off. i think it looks like an old school night-shirt or night-dress!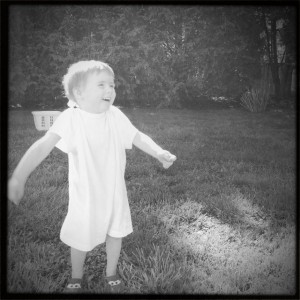 davey is ALL ABOUT playing video games at grandpa&grandma's house. and now that uncle tom is home from school with his Wii?! yeah. good luck getting that kid outside…. or off the couch!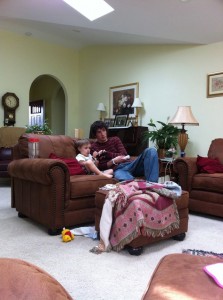 you may have seen this one already. do you see the upper left corner of the magna doodle screen? yeah. he can write his name. pretty well, i might add, though the "y" is often on the next line!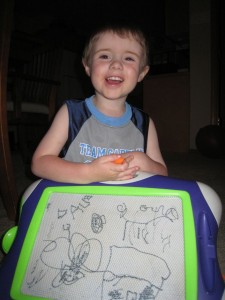 davey's really into dressing himself. has been for months. perhaps a year? some days are better than others. this day was a winner… his favorite "soccer ball" t-shirt matched with a pair of grey & yellow camo cargo shorts (thanks, Nana!). vaguely related to this photo would also be his excitement when i brought home a soccer ball (for a quarter!) from a garage sale. and that Lightning McQueen car he's playing with in the photo? yeah. it's a Duplo. or several Duplos, i suppose. i bought two buckets of Duplos for $3 total at a garage sale and we found such fun blocks in there, including Lightning!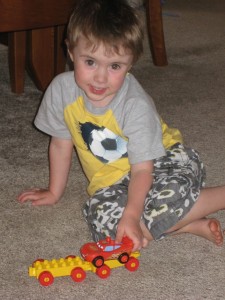 remember the Bellingham Bells Baseball game post? this photo is from that night. Elise (the youngest daughter of Dave's colleague, Ed and my friend Julie) just couldn't keep her hands off davey!  :)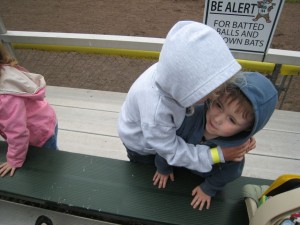 he's already a lady magnet. or a ladies man. or a chick magnet. or, if nothing else, he's an Elise magnet!  :)