some days i have a really hard time comprehending that i have lived in lynden for TWELVE years now. a FULL 12 years. more than a decade! i arrived at 109 South 7th Street on the Thursday before Memorial Day Weekend (perhaps it was 5/28?) back in 1999. My Christmas letter to friends and family that year mentioned the oddity that i CHOSE to live in a county where COWS out-populated people. yes. it's true.
and now, i think for the first time since moving here, i attended the annual Farmer's Day Parade. it's always the first weekend in June (in case you need to know for planning your visit here next year). "what, exactly, is the farmer's day parade?" you ask? well, it's elected officials riding down Front Street in cars and pick ups. it's farmers driving down the street on tractors. there are some floats. there are horses (and people walking with shovels to clean up after their horses). there are middle school and high school bands. and more tractors. and more tractors. and some hay trucks. and more tractors. (no cows, though. hmmmm. maybe someone should change that next year?!).
but no matter WHAT is being celebrated, every kid loves a parade, right?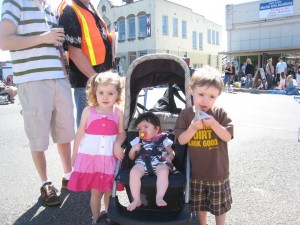 waiting for the excitement to begin: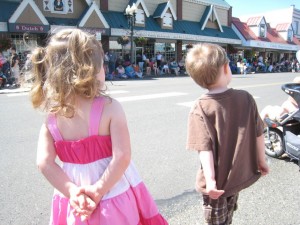 the weather was UNBELIEVABLY AMAZING that day… i pulled a new dress for Sam and new shorts for Davey out of their "grow into" tubs from their closet. both items are from Nana.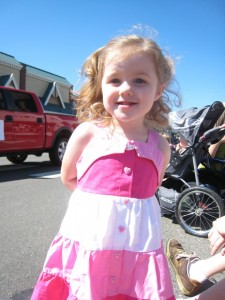 the guy on the far left is our neighbor, Jayson. they moved in last summer. we like them. they're good neighbors. it's always good to have friends in the Sheriff's department, right?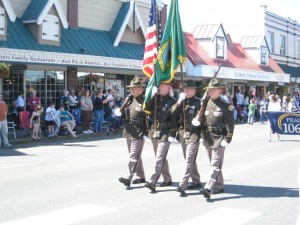 parades can be noisy, right? especially when large trucks honk their horns. across the street from us, we spied our friends Ross & Taya Black and their sons Isaiah and Elijah. poor Elijah…. he never took his hands off his ears during the ENTIRE parade (he's in the middle of the photo).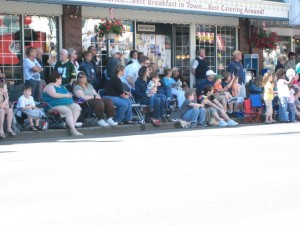 but lest i get too smug that my kids fared much better:
[side note: Elijah and Samantha are one month apart in age. we are so very blessed to have many friends with children close in age to our own. Davey and Samantha are NOT lacking for play mates!]
let the fun begin with some tractors: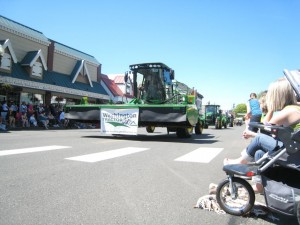 and some klompen dancers (think wooden shoes):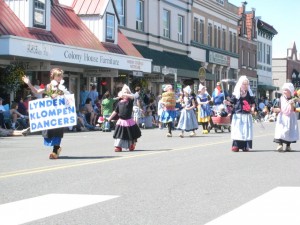 and ladies who work at one of the grocery stores… pushing carts down the street… and stopping from time to time to do a fun little "dance" with the shopping carts. i was impressed!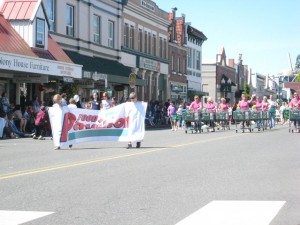 did you know Lynden has a rather large UNICYCLE club? seriously. it's a big past time here.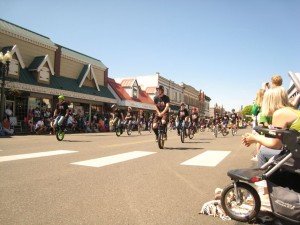 oh… don't forget old time/collectible tractors:
and new John Deeres: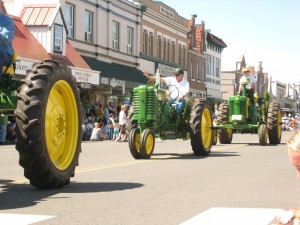 davey and sam enjoyed the candy and the horses the most. i enjoyed the sun. and seeing friends. and being out as a family. i have a feeling that we will be watching many, MANY more parades in the coming years….