holy banana, batman! i recently emptied my camera and my phone onto my laptop. that means LOTS of photos you haven't seen. so i plan to spend today finalizing details and prep for the garage sale (this weekend!) and writing LOTS of blog posts for you to enjoy over the next week or two. this should make my mom happy. i know she's been feeling "cheated" with regard to photos. turns out, however, that it's not just laziness on my part. my laptop really is REALLY slow… so dave ordered some more memory the other day and it should be here soon (which might make me a bit more apt to blog WITH photos)!
my pending blog posts? yeah, they will be out of chronological order. but that doesn't matter so much as getting the photos and the stories written, right? hopefully there will be no repeats of photos/stories from my sporadic and less-than-numerous "recent" posts. but please don't jump down my throat if there are duplicates, okay, 'cuz you might scare me away from this blog forever if you're not nice!
so for (boring) starters, a look around our house:
there are two rooms in our home that show the MOST improvement with our "prepping for house sale" project. the office and the bonus room. before we started cleaning, the office looked like this:
paper everywhere. EVERY. WHERE. clutter everywhere. things that didn't belong got "temporarily" stored in there and then forgotten.
so i worked for a LONG, LONG time, and with some help from dave, we got it to this: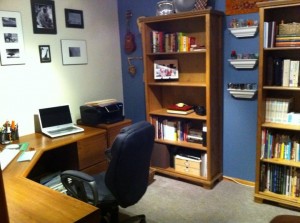 and then my friend Christy reminded me that she was selling her old desk (that she bought when we were roommates) so now our office looks like this:
much more open. much more airy. much more room. and less than 24 hours after we turned it into the above, i started working again. in fact, i actually seem to LIKE working from home now that there's a clean and clear room AND desk to use. ahhhhhh!
and though i have no BEFORE photos, many of you know how insane my craft space in the bonus room was. my mom, especially, will be shocked with the transformation: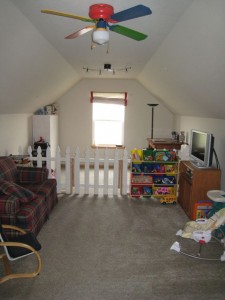 i'm selling that black IKEA kid's chair and that rocking chair (which is part of a baby swing) at the garage sale this weekend. and i added a bulletin board on that back wall (in the craft space) to hang necklaces until i get them packaged for sale/consignment.
necklaces that look something like this: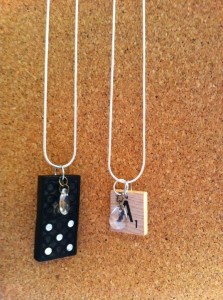 (and some cool flower ones, too, but i don't know where that photo went).