after wondering if davey would ever want to write his letters (any time i asked, he would emphatically whine the word "noooooooo!" or the phrase "i don't want to!"). so i decided not to push it.
dave made my mother's day card. davey signed it himself. dave helped sam sign it. so now, every chance i get, i have davey write his name… because i think it's so awesome that he knows how to do it!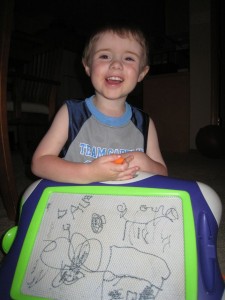 can you see it? in the top left corner… "D A V E Y" (the "D A V E" is on an upward arc with the "Y" found on the next "line" below the "D A").
SIDE NOTE: he's known how to spell his name for months. you know what else he can spell? the word "free." yep. dave got tired of davey asking if he could add certain apps to the iPad or the iPhone. so he taught him that if the app said "F R E E" than he could have it but if it had a "99″ than no, he could not have it because it cost money.