when it's sunny outside. and not too windy. and you're hanging out with friends, you don't want to be inside doing projects. instead, you'd rather be outside painting things. especially if it's your house and you have a lot of things to paint. i hope i don't get in trouble for posting any of these photos, but julie was having so much fun last friday….
you start by making sure your cord is long enough and will stretch around your entire work area: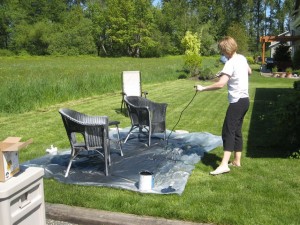 then you stand at sometimes awkward angles to get the right amount of paint on each spot.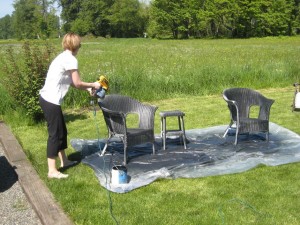 finally, since you already have black paint in your spray gun and you're already making a mess, you bend over and spray a good coat of black on the number "5″ that your friend (aka: me) brought over to spray paint that day!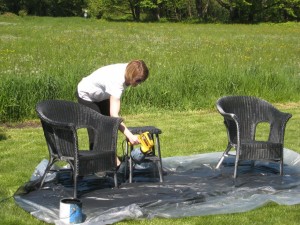 thanks, julie, for being some good entertainment on friday!
HOUSE UPDATE: our counter to the counter offer was accepted. we found out at 6pm yesterday. we have 2 days to get a letter from a lender. we have 5 (business) days to get our house on the market. we have 60 days to sell it (starting today). and interior photos of my not yet fully de-cluttered home will happen this week wednesday or thursday.
please pray for our house to sell in God's perfect timing. we have 60 days to sell it, and we'll be gone for 21 of those days (hooray for a family vacation)! God is in control…