on friday night, i finally (and i do mean FINALLY) found and hung some shelves in our living room for a new look on our decor. i've had this crate decorated and ready to hang since January: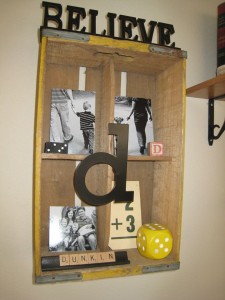 and i finally hung it about a month ago. but it was lonely on the wall. so on friday night i added these: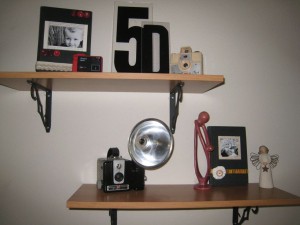 and my wall now looks like this:
i love how it turned out. see that old brownie camera (lower shelf, left side)? that belonged to Dave's Grandpa Dunkin. we have built a camera collection and that was our first piece.
but even though my new wall decor looks clean and uncluttered, many of you know that it is official… and it has been for awhile now… we have outgrown our house because we have too much stuff. yes. lots of stuff. and too much of it. far too much. i've spent the past few months regularly checking zillow.com and windermere.com for something just a bit bigger here in lynden. i think i've looked at about 10-20 houses in person and countless others on line (lots and lots and lots and lots of houses on line). i kept joking that by the end of this search, i would've seen half of the houses in Lynden!
on saturday, while doing several other things, i ran by an Open House. dave was home with napping kiddos (he was prepping for a BIG "dinner of awesomeness" for some of his team from work). as soon as i got home, dave took a turn heading out to the same open house. and it was decided: let's take a closer look. so that happened last night (wednesday). we walked through the house together, with the kids and with our realtor. we looked closely at everything. and then we went home to have dinner and discuss the house.
and less than 30 minutes later we called our realtor and told her we were ready to make an offer. she was prepared for that and was at our house after a quick dinner of her own. we have signed papers and submitted an offer. and we will know by 9 pm on friday (at the latest). so now we wait.
and we prepare. the offer is contingent on us selling our home. if they accept our offer, we have 5 days to list our home. (if they don't accept our offer because it's contingent, then we list our home anyway, try to sell it and THEN put another offer on the house). and knowing we were pretty sure we were going to put an offer on this house, today i spent 2 hours packing up a small portion of my craft space. and then i spent 2 hours prepping the twins' room for touch-up painting. (i had to remove the rest of the border that they hadn't already ripped off the wall. AND the glue that was used to "patch" it back to the wall after some initial removal attempts by the kids). ugh. i have a pretty blister on the side of the pad of my right index finger.
and this weekend we will DE-CLUTTER our home: bonus room, our bedroom, upstairs bathroom, nursery, office, living room, closets, garage…. we have a lot of work to do, but we pray it will be worth it! in preparation for this, i took a few "before" photos the other day to document how much work we will have accomplished when we're ready to put our house on the market – likely early next week.
so here's a look around the downstairs:
so keep us in your prayers. and the sellers. and pray that we can come to an agreement. and that we'll be able to sell our house.