As you may recall, Nana was recently here for a visit. Dave and I asked her to help with the kids so we could attend BibleTech a few weekends ago. I don't usually get many photos of Nana hanging out with the kiddos… even though that's what she does when she's here. Her life during her WA visits is all about the three kiddos. And they ADORE her. They wake up and run straight to the bonus room (where she so graciously sleeps on a camping mat on the floor) to find her. They follow her into the bathroom. They share stories and games and activities and secrets (except when Davey "spills the beans").
Within an hour of arriving:
Nana always finds the most amazing toys for the kids…. including Rhino the Hampster (from the movie Bolt – Samantha's favorite movie!). The bonus about this toy? ALL of the kids LOVE it (though it was purchased with Samantha in mind).
Nana also found a Rocket Balloon Launcher (or something like that). There's a hand held/operated air pump that inflates long balloons and then they fly around and make some rocket-like noises. Samantha preferred using the hand pump to pump air into Nana's hair and mouth: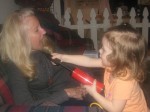 When Nana's here, Davey likes to "study." On this trip, Nana brought the back of a cereal box and the decoder key that cam with it. Davey loved it!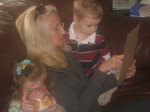 She also brought some pre pre-school aged workbooks. In 10 days, Davey completed almost all of the 2 workbooks. So we did the logical thing: we went to Launching Success and (Nana) purchased several more for him!
While Nana was here, she attended play group with us and she got to see Alex with her birthday buddy, Elijah:
(in case you forgot, these two are 48 minutes apart in age. But at 8 months, Alex was 13 pounds and Elijah was 20 pounds. Alex had 0 teeth and Elijah had 8. Peanut and Not Peanut!)
While she was here, Nana celebrated her birthday. She celebrated her birthday by caring for her three grandchildren, baking her own cupcakes: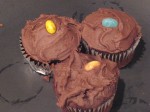 and potty training Samantha. Seriously. She is amazing, yes? As an extended family (the 5 of us, Dave's parents and Dave's aunt and uncle), we celebrated Nana's birthday the Sunday after her special day with lunch at Dave's parents' house:
(Samantha had her hair french braided while in nursery during church…. it looked SO CUTE!)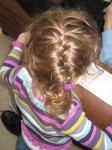 (and Alex slept through part of the birthday party, but she was T I R E D!)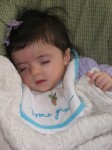 Two days AFTER Nana's party, we purchased a new pair of "power walking shoes" for her. But she still had plenty of presents to open at her party! We gave her some dark chocolate and then we purchased a plant for our yard so we would think of her every time we see it (please tell me that was a good idea. that was a good idea, right? really?)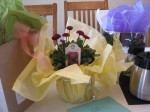 we enjoyed ice cream, complete with a candle and Samantha was an excellent help to Nana in blowing out that one candle:
Samantha was also an excellent helper while Nana opened her presents: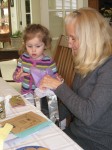 (this has got to be one of my hands down, all-time favorite photos of Samantha. there's only one problem with it: she looks too grown up!):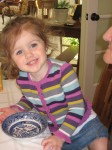 We missed a few days of mail delivery with our BibleTech trip, so on Monday afternoon, I finally remembered to visit the mailbox. Inside, I found a letter-sized envelope with a familiar logo on the return-address label. My heart beat increased as I reached into the box for that envelope and the rest of our mail. I figured it was good news since it was a full-size cardboard envelope (you know those "sturdy" ones that prevent papers from getting creased or wrinkled?) instead of a business sized envelope, but ya never really know. So before I even walked 2 steps away from the mailbox, I had opened the envelope and it was all I could do to refrain from SCREAMING and RUNNING back to the house….
I PASSED MY HUGE WORK-RELATED EXAM (remember the one I took back in February, RIGHT after I had the flu… and the kids had the flu… and I came home to find my husband, who had so graciously taken the day off work to watch the kids, in bed with the flu). Yep, that exam. The exam for a certification that really has nothing to do with my job. But I passed it.
I PASSED!!!!!
and now I have a new (and not-expired) certificate to hang on my wall (should I ever have an office to work out of again):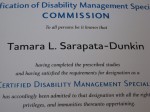 And I am now allowed to add the letters "CDMS" after my name. It's not as special as "MD" or "PhD" but it's a pretty big deal for me. (Mainly because it means I can be rehired by my former employer)! In case you're wondering, I am now a Certified Disability Management Specialist.
After dinner on Monday night, Dave and I were both in the mood for ice cream. And for some strange reason, we didn't have any in the house. None. So we all headed over to Dairy Queen to CELEBRATE mommy's test results!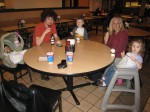 While Nana was here, Alex proved to someone else (besides just Daddy & Mommy) that she is OBSESSED with her toes. She LOVES her toes. Even if they're inside her footie jammies. Or if she's wearing socks. Or shoes. She LOVES them. And she will suck and chew on her toes (I kid you not).
Many, MANY other things occurred during Nana's visit, but these are my only photos. I will HAVE to get better about taking photos when Nana's visiting!
Nana's visit ended far too quickly. And she might be surprised to read this, but I cried a little after she left (Dave drove her to the Bellingham Airport on his way to work one morning). So Nana, please know that we ALL love you. We ALL miss you. And we're ALL SO THANKFUL for you!