in only 6 days, i managed to sell our Jeep Wrangler via craigslist. i think it was 2005 when we bought it. her. we loved that jeep. LOVED. but she's been sitting in our driveway, unloved, un-tabbed, unused for well over 2 years. we can't fit three car seats in the back. it was time to say good bye.
we paid $5500 (cashier's check) for her in 2005. we sold her for $3800 (cash) in 2011. not too shabby. jeeps tend to retain their value around here. but i digress.
my biggest regret? on thursday morning, while i was at Bible study, a guy called to inquire about the jeep. by 2 o'clock, he was here checking it out. by 4 o'clock we had signed the papers and i had his money in my hands. so my regret? no last photo. no photo of all three kids piled in (or on) the jeep. no farewell drive around the county.
and for some reason, dave's assurance that (13 years from now) when the kids are driving we can get another one doesn't really help all that much. neither does the fact that $3800 in cash is the most cash i've ever held in my hand at one time: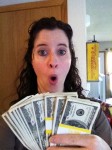 it truly is the end of an era for us. no more jeep. and no final photo to say farewell. [insert sniffing here]