THANK YOU! God heard the prayers of His people. You. He heard YOU. And He answered in a way we never even imagined was possible….
Alex did great in the car on the way down to Children's Hospital in Seattle on Monday. We stopped in Lynnwood for lunch (Chipotle, where else?!) and she enjoyed a bottle while we enjoyed our "fast food." We were about 7 minutes from Children's, however, when her lunch came back up. All in the car seat and all over her clothes. We went ahead got our visitor badges (Dave and I) and then checked in. Our first appointment was to begin at 1. We were in an exam room by 1. Alex had to be weighed and measured, so we stripped her down for that and then redressed her in some clean clothing.
As I indicated above, our first appointment, with the pediatrician, was scheduled for 1 p.m. She finally made it to the room around 2:10 p.m. Unfortunately, Alex had just fallen asleep for a much needed (and late) nap. Dr. Kelly Evans was sweet. She introduced herself to us, discussed Alex's potential diagnosis of craniosynastosis (though I'm glad we had already done some research before the appointment) and reviewed Alex's CT scan results with us. Have you ever seen your baby's skull? I have. It's weird.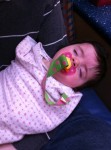 Dr. Evans did a thorough evaluation of Alex's head and her CT scan. Based on both, she does not feel that Alex has craniosynastosis. The neurosurgeon agreed. While her metopic suture is closed (fused), by this age, it's supposed to be closed. The Bellingham radiologist indicated in the CT scan report that Alex's coronal suture (runs from ear to ear over the top of the head like a head band) is closed (fused). Dr. Evans and the neurosurgeon saw no evidence of this. This means surgery is not an option. It's just not needed. PRAISE GOD!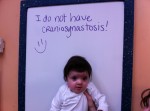 Alex does, however, have a very large flat spot on the back of her head (her right side). This is most likely plagiocephaly (sp?) which is simply a deformed head shape. It is also highly likely that something that has fostered this flat spot is a neck muscle that is shorter on the right side than the left, which makes it harder for her to turn her head all the way to the left (a mild case of torticollis). The hope is for her skull to round itself out over time. Naturally. Though there are some things we can do to aid/speed that process
a) encourage her to look to her left instead of her right
b) do not lay her down on her back (including for sleeping)
c) do physical therapy to strengthen and stretch the shortened neck muscle
d) if necessary, consider helmet therapy
After Dr. Evan left the room, Dave and I looked at each other in disbelief. We breathed a huge sigh of relief. And we rejoice with you in praising our God for His healing abilities. He alone is The Great Physician.
It was a LOOOOOOOONG day. It was over 2 hours to get to the hospital (plus a stop for lunch). Then we were in that exam room (about 10×14) from 1 until 4:40 p.m. Our entire face-to-face interaction with nurses and doctors while we were in that room was around an hour. So we were in there alone for a long, long time. In the end, we had to go find a nurse to see if we could leave the hospital. We never did see the social worker (not sure why she never visited our room – she was scheduled to). And then it was over 2 hours of a drive home (plus a stop for dinner – at the burger joint Five Guys).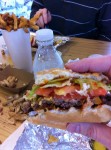 It was a long and exhausting day – mentally, emotionally and physically (for me). We "rescued" some tired grandparents from their long day with Davey and Samantha and put those two (Davey and Sam, not the grandparents!) to bed. And then I went to bed. I think I was sound asleep by 9 p.m. (I should state that Alex woke up 4x each night on both Saturday & Sunday nights and then she did it again last night. She now has a fever on top of her head cold while I still have this miserable head cold).
But despite all the waiting, the emotional roller coaster, the driving/riding in the car and everything else we have experienced over the last two weeks, we are SO THANKFUL for the WONDERFUL news that our daughter is healthy. She does not need surgery. She continues to be our little miracle. She continues to be God's gift to us. and you continue to be the best prayer support team I've ever heard of. So many, many thanks to all of you for your thoughts and prayers. And all the praise goes to our Heavenly Father!
And so today, we carry on. Dave is back to work. We return to scheduling and calendar planning. For those of you in Ohio and Pennsylvania, we are still planning on performing our insane cross-country both ways road trip this summer, so you can expect to see us sometime in July!