happy belated easter! we had a wonderful day filled with church, family and food (i cooked – year #10, i believe).
the kids looked cute in their outfits from nana so we snapped a few photos before church: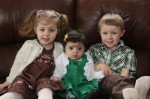 that was photo #5 of 12… wanna see photo #12?
here it is, in all it's glory….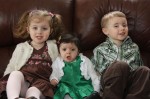 i have a feeling our sweet little alex will NOT be a model, as this face turned into a major pout (much like the photos we took of the three of them at Christmas-time)!
in the evening (after naps and all our guests had gone home and dave made swimming rama for dinner), we hid a bunch of plastic eggs (empty) for the kids to find around the living and dining rooms. then davey took those same eggs and hid them upstairs in the bonus room for the grown-up easter egg hunt. dave and i had SO MUCH FUN finding eggs and seeing just how creative davey was when he hid them! (hey grandpa! you might want to enlist davey's assistance next Christmas for the Hershey Kiss hunt)!