disclaimer: AS YOU READ THROUGH THIS POST, PLEASE KEEP IN MIND THAT WE HAD NOT YET CREATED OUR BUDGET.
Thursday: March 24: With Nana in place to care for her three youngest grandchildren, I packed an overnight bag and got ready to say "good bye" to the kiddos for two nights. of course, 30 minutes before i was supposed to leave home to pick up dave, samantha popped a fever. a pretty high one. so Nana was given some extra instructions regarding children's ibuprofen, how to use our ear thermometer and a reminder of the location of my cell phone number, along with the clear instruction that i could return home at ANY TIME if needed or wanted. Then I headed out, picked up Dave and we journeyed south to the Hilton Inn by the Sea-Tac Airport (with a pitstop at Chipotle for dinner). We enjoyed an evening at the bar with some other Logos friends and headed to bed a little too late for our early morning wake-up calls.
Friday: March 25: Nana decided to start potty training Samantha. And they made cupcakes to celebrate Nana's birthday. Impressed? I sure was (am)! Dave was in sessions all day, so I took a photography class (workshop & photo safari) with some friends (Hillary, Julie and Susan). Information overload to the extreme. But very helpful and informative. and now, i do have a basic understanding of HOW to use dave's camera. whew! the photo safari was not as wonderful (100 students to 2 instructors?) but i did practice some of what i learned and that was a good thing.
After our class (did i mention that we had Chipotle for lunch during our break?), we headed to Bellevue for dinner (Palomino's) and a little bit of shopping (The Container Store…. oh how that place makes me giddy and a wee bit delirious)! Thankfully, i wasn't the only one!
Upon returning to the hotel at 10 pm, I found my husband still in the conference center with Bob (the CEO) and Jimmy. Jimmy's wife, Hillary, was one of my friends in the photography class, so we headed to the boys. After a small issue with the elevator (one of them wouldn't go to the 3rd floor. Not sure why, but it wouldn't respond to that button!), we found our guys and ended up heading out (the five of us) to Thirteen Coins for dessert.
Saturday: March 26: SHOPPING! yes, while the boys were in sessions, the girls were headed to the stores. Julie, Hillary and I headed to Starbucks and Panera for breakfast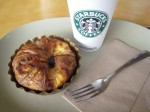 (that's a ham & swiss cheese something-or-other bit of yumminess!)
and then our first stop of the day was at Nordstrom Rack. I FELL. IN. LOVE. with a trench coat and a dress. i felt no guilt buying the trench coat (even though it is the entirely impractical color of creamy off-white). i have had a "coupon" (homemade by dave) for a trench coat from dave, davey and samantha for a few years now. it was my mother's day present one year but i hadn't been able to find what i wanted locally or on line. it felt good to "cash that in!" and the bonus? i loved it SO MUCH that i WORE IT OUT OF THE STORE. yes. the sweet cashier cut off the tags for me and i wore that trench coat for the rest of the day. wanna see it?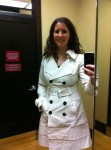 (i took this photo in the dressing room at Kohl's and shared it on facebook…. i was just THAT excited about the coat!)
and then the dress? it was originally $118. it's by calvin klein. and it was on sale for $45. but since i'm not working in a professional arena, i really wasn't sure i could justify the purchase. it's a classic. it'll still look great and be in style 5 years from now. probably even 10 years from now. so i finally decided to splurge and get it. and when i got to the register, it turned out to be 40% off, making it $27! major score! i'll have to get a photo of the dress the next time i wore it (i wore it to church the day after we got home from BibleTech). Audra, Bob's wife, joined us at Nordstrom Rack and then she drove for the rest of the day. We added Kohl's, Forever 21 and H&M to our list of stores visited. and we enjoyed a VERY FILLING and quite long lunch at The Cheesecake Factory.
after reconnecting with our spouses (in the parking lot where we first began our day – Nordstrom Rack), we said our goodbyes and went our separate ways. Dave and I headed to West Seattle to see Baby Amity (and Rachel & Sterling) before journeying home.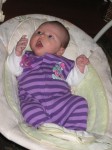 All in all, it was a fun and successful weekend. While neither of us actually felt "relaxed and refreshed," it was great to get away, do something out of the ordinary and be us instead of "mommy and daddy" for two days!