yes, i do mean that title above. those of you who read this blog remember the on-going need for prayers for sweet Baby Daisy (Alex's in-utero name). unfortunately, it's time for me to, again, call out to you for more prayers.
at 2 months old, we noticed alex had a pretty large flat spot. i mentioned it to our family doctor at alex's 2, 4 and 6-month well-baby check appointments. he was never concerned, thinking it was a flat spot like most other babies. he said it would "pop out" (or correct itself) once she wasn't spending so much time lying down (crib, swing, bouncy seat, etc.). but we kept a close eye on it. i even switched her to the other end of the crib in an attempt to have her turn her head in the other direction to help correct the flat spot. but it became apparent that there was something else going on.
so i took alex back to the doctor at 8 months to have him look at her head. he felt her skull all over and felt something "out of the ordinary." this appointment was on Monday, March 21st. We went straight from the doctor's office to the Lynden office of Mount Baker Imaging to get some x-rays of her head.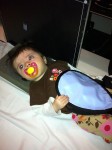 the x-ray results were available before the end of the business day…. and they were inconclusive. so our doctor sent us to Bellingham for a CT scan.
the CT scan was on Wednesday morning, March 23rd. we were in the waiting room longer than it took for the scan to happen (and we weren't in the waiting room for very long).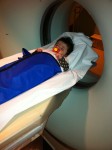 and then i missed the call from our doctor's office on wednesday early afternoon. and my doctor's office is CLOSED on wednesday afternoons. ARGH!!!
so on thursday morning it was confirmed to us that alex has craniosynostosis, which is "the premature fusion of one or more cranial sutures" (from AAFP journal). The CT scan revealed that Alex has TWO cranial sutures closed. the biggest problem with this? it prevents brain growth. the solution? surgery.
on Monday, April 11, Dave, Alex and I will head down to Children's Hospital in Seattle. we will meet with a plastic surgeon, a pediatrician, a nurse from the craniofacial unit and a social worker. they'll review Alex's CT scan, do a physical exam of her head and talk with us about what's next. we'll meet the neurosurgeon the day before surgery (which will be scheduled sometime after our evaluation).
it appears that "baby daisy's" fight in this world isn't over yet. we know, without a doubt, that she is God's gift to us. we look forward to watching God continue to work in the young life of our sweet Alex. if you would please keep Alex and our family in your prayers, we would greatly appreciate it. we'll keep you updated as we know more.