on april 21 (last week, thursday), we celebrated my MIL's birthday with a home cooked dinner (thanks to Auntie Mary & Uncle Flemming!) which included a flour-less cake (hooray for gluten free for dave!)! without any phone calls to prepare (like most junior high girls), i wound up dressing Samantha and Alexandra in matching colors… and grandma matched them, too: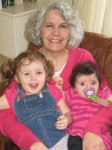 rachel (dave's sister) called at just the right time (the cake was being cut and served but we hadn't sung yet) dad turned on Skype and we were able to chat with Rachel, Sterling and Baby Amity…. and they were able to join the singing portion of our party! too bad they couldn't eat the cake through the computer screens!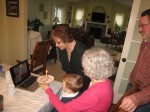 grandma had a special helper at gift time: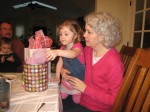 my 2.5 year old daughter is ALL ABOUT the presents these days!
so many happy (and now belated) birthday wishes to my mother-in-law!