we've been waiting all season for a REALLY GOOD snow. just one. but we haven't received any. so instead of waiting for the snow to come to us, we went to it! many, MANY thanks to grandma & grandpa for watching alex today so dave and i could take The Twins up to Mount Baker for a day (or a few hours!) of sledding and playing in the snow. we forgot dave's camera and my camera spent the majority of our time in dave's jacket pocket, we have very few photos.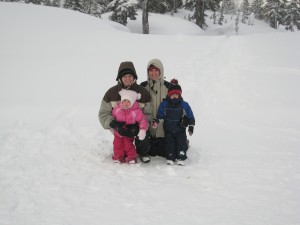 [many thanks to strangers Betty (i think that was her name) and John (or Sean?) for snapping a few family photos for us!]
there was a LOT of new snow (aka: fresh powder) up there today. it was beautiful.
daddy & samantha on their way down the hill: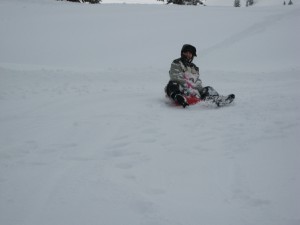 sam LOVED sledding…. as long as she didn't get "all messy" with snow all over her… especially on her face: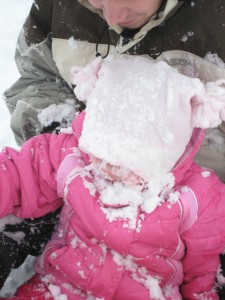 … so she wasn't too happy after this run! she was very selective of WHICH sled she rode down on after this!
davey was scared to go sledding. without too much coaxing, i was able to get him to ride down with me. he LOVED it. we probably spent about 2 1/2 hours sledding and playing in the snow (davey had to go "water the snow" twice). it was fun to do something special for The Twins. hopefully we can have some more fun adventures… i'm a little eager to see what kind of sledding and snowy fun we have a few years from now with all three kids….
even when she's tired (late naptime) and whiney, who can resist those beautiful blue eyes?
samantha (eventually) fell asleep on the drive home. davey, however, was fully engrossed in his movie (A Bug's Life) and in the bag of nuts he inhaled: