our monday was pretty crazy. GOOD crazy, but crazy none-the-less.
as usual, we attended play group from 9-11 (ish). i can't say it enough: i love those women. they are Godly. they are encouraging. they are REAL. we share advice, recipes, babysitting, coupons, feelings, tears, frustrations, life… i honestly would not be the mom i am without these women. i love them.
then we headed home (in the hail!) to do a final "tidying" of the house before my friend julie and her youngest daughter, Elise, came over to play and have fun. julie and i worked on our printer's drawers (or whatever they once were). i'm the one who convinced julie to buy the one she did…. i told her, "sure, we can just pop out some of those little spaces to make larger cubbies…."
turns out it's a little harder than that…. we pulled out the pliers: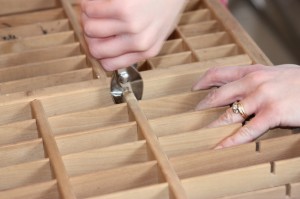 and the exacto knife: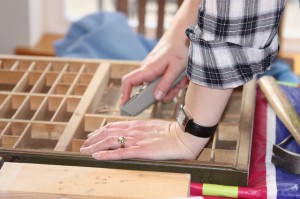 a hammer & screwdriver (not pictured) along with an arsenal of other useless tools. julie's dad, however, has a well stocked shop and she's hoping to take her tray there to have him remove a few sections of wood. it's gonna look GOOD when it's all finished, though. we played around with our collection of letters and numbers (Bs and 6s for her…. Ds and 5s for me):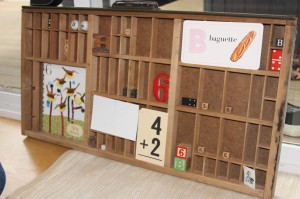 doesn't that look AMAZING? imagine it with some family photos…. SO FUN!
wanna peek at mine?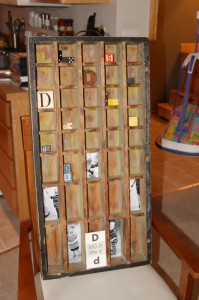 completely different, i know. the wood "slats" are WAY fatter/heavier in my drawer, so i'm not sure how i'll remove any of them (if at all) so i might just work with what i have. i have to print some photos smaller so i can crop them into the square spaces…. and i want to leave room for growth. but despite that…. pretty cool, eh?
these were our bargain finds in snohomish back in january. we each wanted one… and we ended up with quite a few to choose from. i'm actually wishing i'd purchased TWO (one more like julie's and the one i purchased).
here's a peek at the BACK of mine: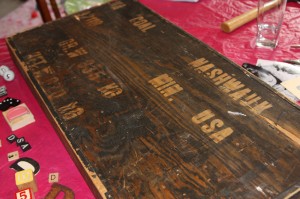 my heart beats just a little bit faster each time i see it!
after Julie & Elise headed home, i stalked the mail carrier for my order of resin flowers so i could make some more rings…. and on that note, these beauties: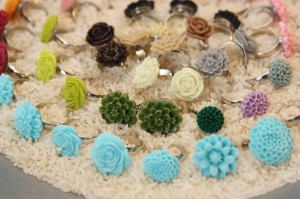 will be in my etsy shop by the end of the week. and if i get enough orders, i'll be able to order some more supplies to make more!
and after dinner, i made two batches of cookies (snickerdoodles and chocolate chip) and tomorrow i will mail & deliver 75% of the cookies to family and friends!