slacker! i am. i know. i apologize. but i will not make empty promises.
yesterday (saturday) was a crazy day, but i need to access the photos on my MIL's camera before i post about the first half of the day. at the end of the day, however, samantha, alexandra and i picked up a special guest at the bellingham airport:
for the next 10 days (well, 9, 'cuz today was day 1), nana will be here to LOVE LOVE LOVE on her sweet grandchildren. which means i will get some much-needed breaks (including SLEEPING IN A LITTLE!). i will also accomplish two major goals: order photos from 8/2 through the present AND clean the office. trust me, these are BIG undertakings!  :)
nana always brings presents for the kiddos. and she finds some of the most amazing and PERFECT things for the kids. this trip? for my BOLT (movie) loving samantha, she found this: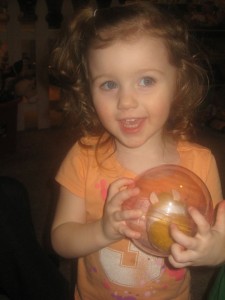 it's a little hamster that runs around in a ball…. JUST like Rhino the Hamster in the movie.
i'm looking forward to the next 10 (okay, 9 more) days.