davey's in this "i-don't-usually-like-to-have-my-picture-taken-mood" these days. so i have very few photos of him. samantha's getting to that stage. but every once in awhile, i can snap a "non-frowning" shot of her: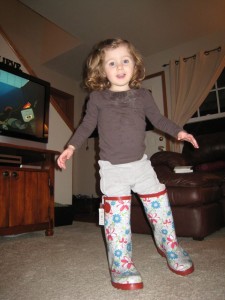 (wearing my new rainboots that i, unfortunately, have to return b/c they're too big).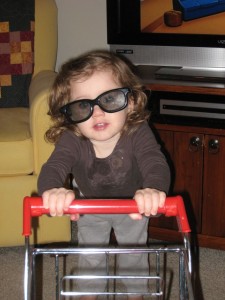 (pushing the "copping shart," as she still calls it, while wearing some 3D glasses from long, long ago…)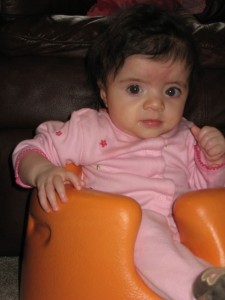 alex is finally settling into her "stuff." she loves the doorway jumper we borrowed (ours got lost somewhere in storage-land). she enjoys the exersaucer more and more each day. and she's becoming quite content in the bumbo for longer and longer periods of time (10-15 minutes is her max).
[the title of this post was stolen from dave's cousin's wife....]