zero success. that's the progress we were making on the "poo on the potty" situation. davey has actually told me, "i LIKE to go poo in my pull up and underwear." yes folks, he really has said that. multiple times.
and we tried every incentive we could think of. good things like marshmallows or jelly belly jelly beans (those were the treats HE chose). and not-so-good things like spankings, cold showers, no use of electronics, no juice to drink…. you name it, we tried it. nothing was working. not positive reinforcement and not negative reinforcement. sigh.
but then, something clicked. for ALL of us. the kids received all three Toy Story DVDs for Christmas. inside at least one of the DVD boxes there was a flyer showing some toys of the main characters from Toy Story. davey started talking about Buzz Lightyear. a LOT. and he played with one at will & sam's house. and then he started talking about getting a Buzz Lightyear for Christmas next year. dave and i talked and agreed that davey was old enough to EARN his Buzz Lightyear… by going poo on the potty!
i found a sesame street pre-made chart (a Target dollar spot item from a year or more ago) and i found some CARS stickers and we had a little chat with davey. we got him excited about the CARS stickers. and the chart. and the REALITY that if he would simply go POO on the POTTY (21 times) instead of in his pull up or underwear, he would EARN his desired Buzz Lightyear.
and it worked. his very next poo was on the potty. here he is choosing his FIRST sticker to add to the chart: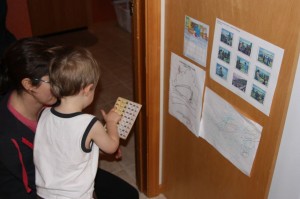 and adhering the sticker….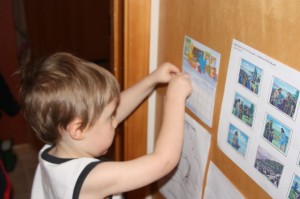 the day after this photo was taken he used the potty AGAIN. i was downstairs and i heard him upstairs telling samantha, "no, get out… i HAVE to get a buzz lightyear!"
he had three successes. then two fails. then one success and one fail. as of today, he has 6 stickers on his chart. 15 to go and we'll take a special trip to the store to get his hard-earned buzz lightyear. as a mom, i'm hoping that 21 potty poos are enough to make it regular. habit. and that he will NOT revert back to using his underwear or pull ups as a potty!