i'm one of those women who does okay in the kitchen. i can follow a recipe. i have some success stories. i have far more failures. but my husband? he is A.M.A.Z.I.N.G. in the kitchen. he reads several recipes and then makes up his own for a new menu item. he can make his own taco seasoning by simply tasting his mix of ingredients. he's got serious skills. and it makes my heart happy. i only wish (for ALL our sakes) that he could cook more. he prefers to cook when he has TIME (aka: NOT on a week night) and desire. it all started a number of years ago with meat. made almost entirely on the grill. his other specialties included chili and spaghetti sauce. somewhere over the past few years, he's added a LARGE variety of scrumptious meals or dishes to his repertoire.
with dave's gluten free diet a necessity now, we've had to remove some items from our menu. additionally, he doesn't eat much grain (so rice and corn, mostly). we've added sweet potatoes to our list of "staples." dave can do some pretty tasty things with a sweet potato.
earlier this week, we had homemade sweet potato fries to go with our steak and salad: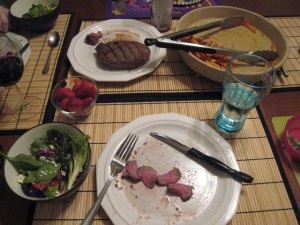 and yes, our kids eat what we eat. samantha usually eats the most. she and davey tend to like COMPLETELY OPPOSITE foods. this night, she PACKED AWAY the steak (i could barely cut it fast enough!) but she had no interest in the fries. davey, on the other hand, ate several servings of the fries but it was a battle to get him to eat his steak or salad.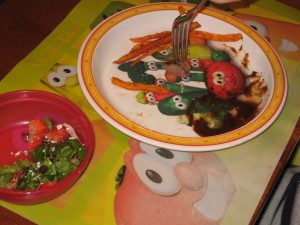 for us, it's worth it to expose our children to good food. to our food. we don't want to make separate meals for them. we insist on several bites of each item on their plate. they only earn dessert (or a "treat") if they eat ALL of their food. it's not easy. it's often frustrating. but i'm glad we're doing it.
and a few days later, we had homemade sweet potato chips:
they were a touch overdone, but still oh-so-yummy!
i could eat these all day, every day. they're the perfect blend of sweet and salty and such a yumm-o-licious snack!
he also makes some mmm-mmmm-good sweet potato hash browns (WITH BACON, julie!).
don't you wish your husband could cook?