on february 7, amity blythe culbertson was born. today she is 19 days old. that means that one week ago (last saturday, 2/19), she was 12 days old. and we FINALLY got to meet our sweet little niece.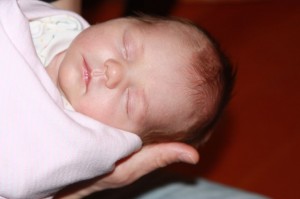 she has her days and nights confused, so she slept the whole time we were there. we did get a brief peek at her eyes: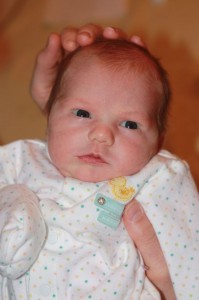 isn't she a doll? i can't wait to see her again…. probably not until next month, though. hopefully she'll have adjusted her days and nights by then!  :)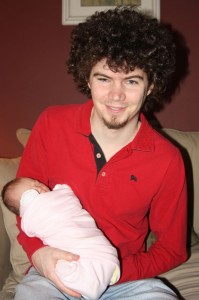 uncle dave holding his first niece on his side of the family! i've been an aunt since i was in high school. dave became an uncle when we got married but even wendy, my youngest niece, was already 3 years old (the age davey is now).
(i would like to take this moment to let Jeff & Taryn and Tom know that we're still waiting for our first nephew so there's still the possibility of one of you providing a "first" for us! but i digress….)
the kids were all pretty enamored with their cousin, Baby Amity:
davey and samantha are pretty accustomed to having a baby around. samantha is currently obsessed with holding babies (which usually makes alexandra her "victim")! but for alex, this was her first exposure to a baby.
but even sweet newborns lose their appeal after awhile (she WAS sleeping most of the time, after all), so it's a good thing that both daddy AND mommy have iPhones with kid games installed: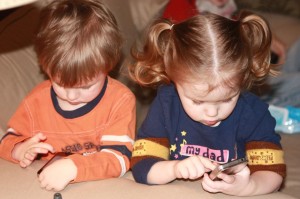 (and yes, those are napoleon dynamite themed wrist sweatbands that samantha is using to hold her long sleeves "up" on her shirt. at another point during the day she had them around her knees: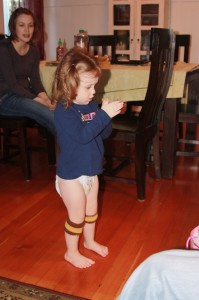 ('cuz we all know how versatile sweatbands can be…)
it was a long day with a lot of driving/riding in the car and no naps. but it was worth it to meet little Amity and to see Rachel & Sterling as a family of THREE: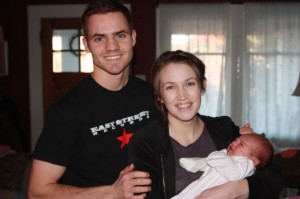 but now for some humor: many of you know we're planning a 3 week road trip this summer. it will involve at least 10 days of driving (we're heading all the way east). this little trip to seattle was our chance to "test the waters," to see how well the DVD player Dave installed in the Pathfinder works and how well the kids would travel. the results weren't all that spectacular. the DVD player worked just fine. perhaps a bit too well. the kids were too entertained to nap. well, mostly. sam fell asleep 5 minutes before we arrived at R&S's place. the drive home was long, as well. we were still on the freeway but had finally reached bellingham when samantha was F.I.N.I.S.H.E.D. she even said "I'm all done sitting!" we pulled over to change her diaper and when dave tried to put her back in her car seat, she LOST it. she started crying and pitching a fit. "i'm all done in the car!" it was pitiful. and she cried the WHOLE. WAY. HOME. and she continued to cry while dave got her into her jammies and into bed.
it took 2-3 days for the kids to readjust to "normal." but despite that, i still say it was a worthwhile adventure. we are, however, praying for a BIG change in samantha and her ability and willingness to sit for long periods of time before our adventure this summer!