for months (no exaggeration), my friend Julie and i have been trying to take a day trip down to Snohomish…. an antique/vintage "mecca" about 90 minutes south of us. last saturday was finally the day. and it was glorious. absolutely glorious, despite the cold temperatures, the hail, rain, snow and slush (all fun weather we encountered on our journey).
my only regret from the day? we didn't get through most of the stores! who knew that it would take ALL. DAY (from 10:30 to 5) to wander in and out of 6 stores and eat lunch? we only made it down ONE side of ONE street. i kid you not.
at Annie's we hit the motherload of candy jars filled with letter tiles, bingo numbers, dominoes and more:
we were in "almost heaven" attempting to spell our last names, searching for the initials of our children and spouses…. you get the idea.
i also found new items there that i thought would be fun and easy to re-create:
annie's also had this super cool chalk board that had me drooling…..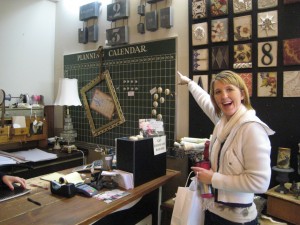 it's a huge Planning Calendar with the names of the months and the number of days in each month…. childhood me who dreamed of being a teacher would have LOVED to own that! julie WAS a teacher… she was pretty impressed, too! the best part? it was for sale. no, neither of us purchased it. sadly. but one of you can. i want to say it was $68 or $78 or something like that. anyone interested?
the next store had some fun findings:
(the B6 and D5 came home with us…. the typewriter with keys stayed there at the price of $110)!
the next store we visited was more of an antique "mall" with a bunch of individual vendors. we walked in, quickly made our way through the downstairs (we were pretty un-impressed with 99% of what we saw) and then headed upstairs.
(those above photos are in the 1% we DID like in the downstairs of the store!)
in the upstairs, we were COMPLETELY OVERWHELMED. insanely overwhelmed. for those of you who've been to Lynden's downtown, imagine the upstairs of ONE ENTIRE BLOCK as a bunch of individual stalls CRAMMED FULL of GOOD vintage findings and some antiques. seriously. i kid you not.   H.U.G.E!   it took us THREE HOURS to get through there. it was a problem because we walked in at noon (not knowing how big it was!). but we came home with some REALLY good stuff. one of the employees even came upstairs (several times) to lighten our load. yep. seriously. i'll have to get some photos for you soon.
we did leave a few fun things behind… like this spendy but oh-so-awesome vintage sewing cabinet:
(how much was it, julie? $300? $600? $900? i really don't remember! or how about these over-priced reminders of our childhood… holly hobbie lunch boxes: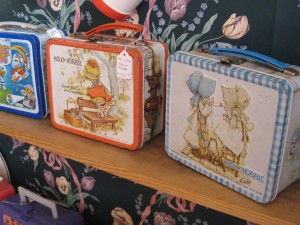 i'm pretty sure i had the one on the right. or maybe not. but i loved holly hobbie. i DO know that i had a holly hobbie sleeping bag for a long time.
next up was lunch at Jakes. a bar. the food was yummy. but it was after 3… i think anything that tasted better than cardboard would've been yummy at that time! and then we had to get back to it. the stores all closed at 5. we did make a small detour back to one of the first stores so i could buy a ring that i couldn't get out of my mind.
in less than an hour, we ran in and out of several stores. we saw lots of treasures but didn't buy most of them. here's a shelf full of Hummel figures… they always make me think of my gram (she collected them):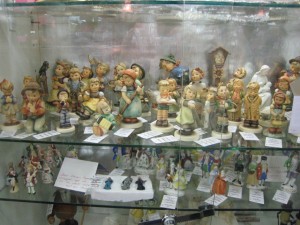 or metal roller skates with a key to lengthen them: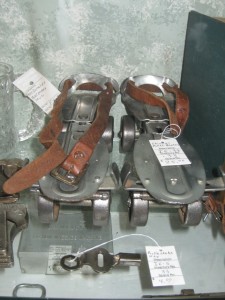 my first roller skates were metal like this. you'd wear your own shoes and strap these babies onto your shoes.
how about these roller skates COMPLETE with carrying case: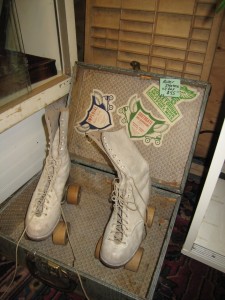 (julie, look BEHIND the carrying case. how did we miss that? i WANT it!!!)
once all the shops were closed, we treated ourselves to a tasty treat at BITE ME (i LOVE that name!), a little cupcake shop. i really liked the "bling" that they added to the (cheap) wall vinyl in the shop:
in the hopes of finding ONE MORE SMOKIN' DEAL, we visited a Goodwill on our way home (Julie scored a pair of Nine West black summer shoes marked at $6.99 with a pink tag which was then an additional 50% off!).
i drove us home through the dark, the slush, the snow, the traffic and my cup was full. full of fun. and for julie's spin on our adventure and her photos, check HERE. i would also like to echo julie's sentiment that we have WONDERFUL husbands… dave was home with ALL THREE of our children (yes, EVEN alex!) and he didn't take his shower until 9 PM! ed was home with their 4 girls (one who turned out to be pretty sick – sorry, sweet Becca!)! we are blessed. truly blessed!