because i have a lot of little "nothings" running through my mind, i will provide a BLIST (a blog list) for you today. it allows me to combine all kinds of random things together in one post!
1. i love the word "shenanigans," don't you? it's fun to say. and spell. today i will cause some shenanigans, i'm sure!
2. today i FINALLY get to go to snohomish (about 90 minutes south) with my friend julie. we're going to some antique stores (hooray!) and possibly to a scrapbook store. despite the snowy weather forecast and the reality that i am driving on this adventure, i am excited. we've been planning this trip for MONTHS….
we've been waiting for alex to be old enough AND for her to drink from a bottle.
the day has finally arrived. whew!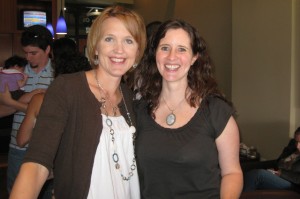 julie has a list of things she wants to look for. my list is mental. which means i will forget approximately 93.6% of the items on it. instead, i will find things that are cool and buy them for no reason. or i will be disappointed b/c i don't find anything cool. or i will be REALLY disappointed b/c i will get home, discover a use for a treasure i found, loved and LEFT in the store(s). here's hoping that doesn't happen!
3. only 11 more days until my birthday. can you handle it? the excitement, i mean?
4. UP & Cloudy with a Chance of Meatballs. the two movies that have been watched the most in this house lately. we did, however, receive a number of really good DVDs for Christmas – Bolt, Finding Nemo, A Bug's Life, Toy Story, Toy Story 2 and Toy Story 3. we also purchased The Brave Little Toaster. another good flick.
5. we've got some exciting news to share soon. but not yet. and no, it does not involve birthing a baby or adopting one. so please bury those thoughts. seriously. gone. don't you think i we have enough on my our plate with the three i we already have?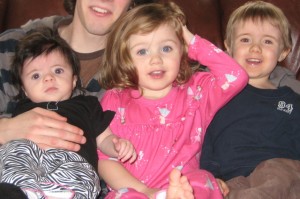 6. i'm addicted.
thanks to the joys of netflix instant "watch it now" category, i have a new addiction – Friday Night Lights, the tv series. it took me less than a week to watch season 1. that's sad. but i can't stop myself.
7. on line shopping is fun and also addictive. i have free PRIME (aka: 2-day) shipping with amazon.com. i've been spending a lot of time on there lately. and i buy stuff. i also have a scrapbook site that has free shipping if you spend over $50. it's fun to have things delivered to your door! and it's way more fun than hauling three wee ones in and out of their car seats to find fun things in stores….
8. i got this little beauty for Christmas from my brother & sister-in-law and nieces. i love it. the film isn't cheap, but it's so much fun.
i'm trying to use it for special occasions.
but i can claim just about anything is a special occasion – the twins being nice to each other, alex sleeping on the couch, going to starbucks to play board games with friends….. when you're a stay at home mom of 3 kids ages 3 and under, just about ANYTHING is a special occasion!
(i've already completed 2 scrapbook layouts with photos from this camera!)
9. i REALLY want to de-clutter. i'm eagerly anticipating our yearly garage sale. i'd love to live on less. with less stuff. then again, that goes against my nature… my shopping nature, that is. sigh. perhaps i'll have to settle for some more organization?
10. i'm wondering if anyone has any suggestions for potty training a 3.5 year old boy regarding POO. he likes going in his underwear. or in his pull up. but not in the potty. not even for jelly beans. or marshmallows ("smarsh-smallows"). or stickers. or toys. or any other special treat. so i'm open to your ideas. please share them. PUH-LEASE!!!!
11. i was at a point where i only needed to lose 8 more pounds to be back at my ideal weight. my pre-alex weight. and then Christmas happened. and i refuse to admit how many pounds i need to lose now. i'm thankful, however, oh-so-very-thankful that i'm still nursing. it makes it easier to lose those unwanted pounds!
12. only 11 more days… did i mention that already?