roots. we all have them. you know what i mean. a place we're from. where we were born. where we were raised. where we went to school. something like that. sometimes your roots are from one place for a long time. other times your roots are scattered all over the place. like mine. well, sorta.
you may or may not know that by the time i was in 4th grade, i'd lived in 5 states and experienced at least 7 moves. but my mom's been in the same house since 1984 (4th grade for me). that house is in levittown, pennsylvania, which is in bucks county. it's a pretty large county. it's where M Night Shyamalan was raised and where his movies have been filmed. but i digress.
i was at the thrift store earlier this week and found this little gem: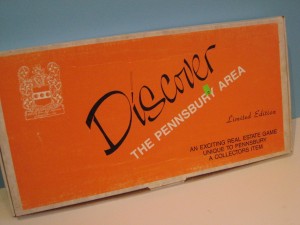 my interest was peaked, especially once i read the blurb on the box:
a limited edition real estate game? okay. i'll bite. the bonus for me? "pennsbury" is a high school near my mom's house. i had friends who graduated from the pennsbury school district. (my father-in-law graduated from pennsbury high school…. really!) but i didn't think it was REALLY talking about pennsbury high school.
it was only: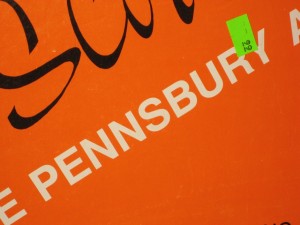 99 cents!
now i need to point out that found this game in lynden, washington. this game is 3,042 miles from it's home. which, as it turns out, was in pennsylvania, a mere 4.8 miles from my mom's house. i kid you not.
so i bought it and brought it home. and i experienced a little bit of nostalgia upon opening the box.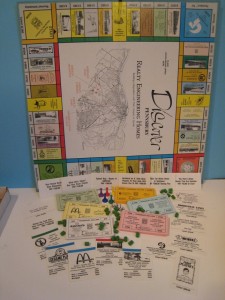 it's like a local monopoly game. when was that super popular… late 80s? early 90s? sometime in there, right? do you remember that craze? all KINDS of monopoly games. cat-opoly? dog-opoly? harley davidson-opoly? pennsylvania-opoly? you get the idea.
here's a close up of some $5,000 bills. see that on the left?
the william penn savings logo? that was my first bank. yep. at the ripe old age of 17, i opened my first. ever. savings account. at that bank. on route 13. yep. the same "route 13″ that's noted on the right hand side of the money. there were other fun trips down memory lane….
out here, they're called "sub sandwiches." back east (especially in new jersey), they're called hoagies. good luck getting the right accent. but it doesn't matter…. i like the idea of winning money for selling the most hoagies as a class fund raiser!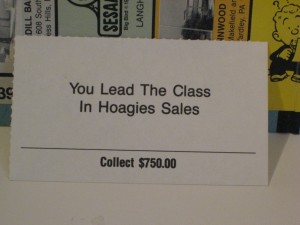 or how about the ridiculous cost of prom tickets. remember, this game was created in the late 80s or early 90s.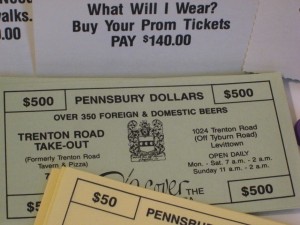 $140 for prom tickets? is that normal? how much are they here?
the school got a local McDonald's to support them: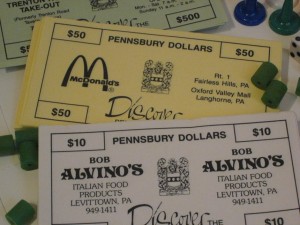 route 1. route 1 is a pretty big deal. it used to be "car shopping row." seriously. that dates WAAAAY back to when my mom was a teenager and her dad (my pop-pop) would go check out the cars. Reedmans, i believe, was the most popular. and it's still there. my FIL and his dad (great-grandpa dunkin) would go car "window" shopping there, too!
but i loved this "penalty" card regarding overdue library books: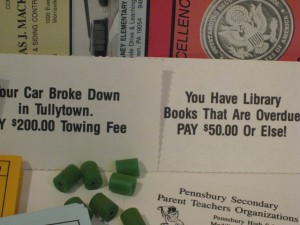 pay $50 "or else!" it's the "or else" with the exclamation point that really cracks me up!
i grew up in the 80s and early 90s. MADD and SADD were REALLY popular groups at the time. and here's a card to prove it: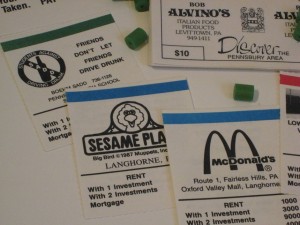 and you can see a card for "sesame place," too. a lot of my friends worked there during summer vacation. food service. water park. characters. yep. all of the above. it's a small version of disneyland based on the sesame street characters.
so there you have it. a small peek into my history. my roots. my area. my former home.
and you learned all that because i went to the thrift store this week and spent 99 cents.