this has been hanging on our wall for well over a year now: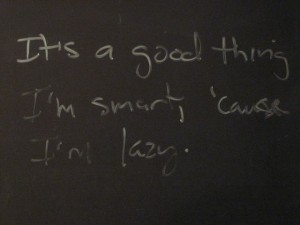 if you can't tell, it's dave's handwriting. he wrote it without any co-oercion from me. it was one of the few (VERY few) times in the course of our history together that i was able to get Dave to admit something not-so-positive about himself. but i had to promise that bob (his boss) would never see it. so if you work at logos, please don't share this post with bob.
that said, i finally erased it on friday evening. i was doing a little bit of "tidying," which included addressing my "paper mess" area that hung on the wall in the kitchen. i removed the "organization items" that became a container for paper clutter (including a thank-you card from someone's 1st birthday – she's about to turn 3!). i did leave a magnetic board (which houses THREE paper pads for shopping lists) and the calendar. the area looks better. or it will once i touch up some marks and fill in some holes.
this week, i plan to finish the above). i plan to purchase some hanging shelves. i plan to re-arrange/decorate my living room wall space. i plan to (continue) to put my scrapbook layouts into albums. (i bought some albums and hardware last week and started this project over the weekend).
there's more i want to do. but i want to be realistic. so there you have it. it's time for a little bit of change.