1. i kid you not, though dave and i are lovers of photography, we have NOT been good about taking photos. of ANY of the kiddos. i guess that's what happens with baby #3…. the cameras disappear as you attempt to simply make it through each day without breaking something.
2. dave has been working lots of extra hours (mostly from home) lately. he's got a big release that will HOPEFULLY happen by 2/10 (the day that Verizon starts carrying iPhones). that means he needs to have his current project sent to Apple by 2/4 so it can be in the Apple Store by 2/10. and in the midst of THIS pressure, they had a server issue at work. the Logos iPhone app was running slow. too slow. so that had to be addressed in less than a week's time. so he was at work yesterday for the majority of the day. and i have a whole fun story to share about my day with the kids. but that will have to wait.
3. my Tupperware order arrived this past week. WOO HOO! i had ordered a bunch of "modular mates" for kitchen cabinet/pantry storage. they were on sale for 50% off! here's a BEFORE look at one of my cabinets: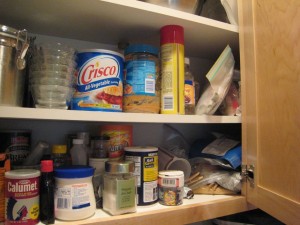 the piles of various ingredients on the right side of the photo (both shelves) was especially frustrating.
enter Tupperware's Modular Mates: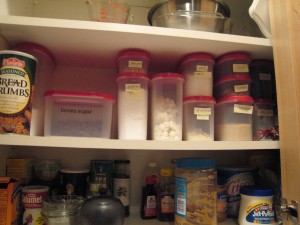 i planned to use my label maker to label the containers, but after "sugar" and "powdere [d sugar]" i was out of tape. so i used sticky notes as my temporary labels until i could get to the store to purchase more label tape. but then i received an e-mailed photo from my friend Julie. she used her Silhouette SD to make a vinyl label for something decorative in her home. and i thought "seriously? i've had my machine for WAY longer. why don't i use it?" so i did. and here's what i made: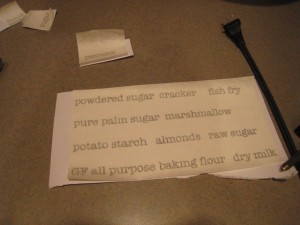 i made my OWN labels for my kitchen cabinet contents. it took longer to cut the letters and longer to "weed" them than it did to actually apply them to the containers!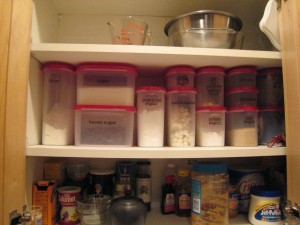 and there you have it. my HAPPY kitchen cabinet where things are organized, labeled and easy to find!
the only downside of this project was the reality that i needed MORE containers and they wouldn't be on sale for half-off again until NEXT January. sigh. but then i checked my mailbox and i received an invitation to ANOTHER Tupperware party from another friend. i also received a sale flyer which indicated that all Modular Mates are on sale for 40% off through early February. SCORE! i can finish organizing my OTHER kitchen cabinet (aka: snack goods)!