1. laundry is of the devil. i'm convinced of it. rather, perhaps i should say "spending 3 hours folding laundry" is of the devil. don't ask how much clean but not-yet-folded is currently sitting on my love seat.
2. i think i have an addictive personality.
3. with each passing year, it gets harder and harder to fully function a day or two after staying up until 2 a.m. does this mean i'm getting old?
4. weekend family outings are fun. and we should do them more often. especially because rocket donut has a decent selection of gluten free donuts. and they're next to dave's new (but old) office building.
dave and the twins at rocket donut: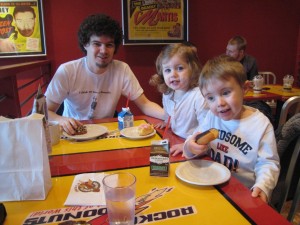 davey enjoying daddy's headphones in his new office: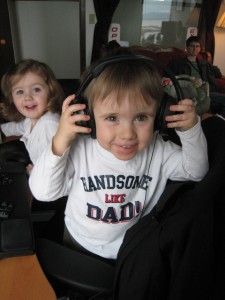 sam spinning/walking in circles on one of the floors in daddy's new office building: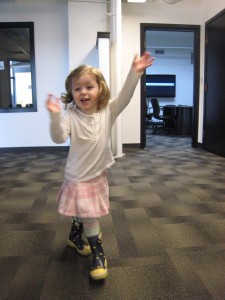 dave enjoying the scooter bike on the 2nd floor of the office: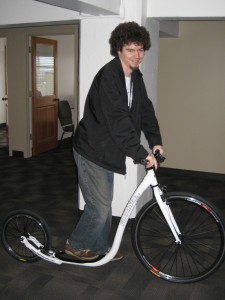 (that thing is fun. i want one. dave has some video of me trying it out. no, you do NOT get to see that video)!
5. evenings without daddy are more fun when spent with friends. many, MANY thanks to mary jo and family for a WONDERFUL dinner and fun time on thursday evening!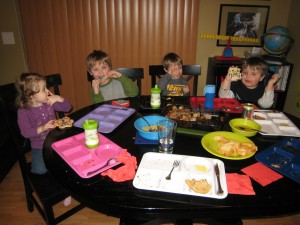 6. when the twins are running around upstairs and are laughing and having fun BUT you're pretty sure they're NOT in the bonus room, there is some legitimate reason to be concerned. thankfully alex was NOT in her crib when this happened: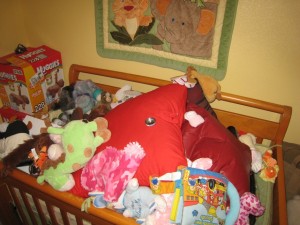 (also thankfully, i caught samantha in time… she was beginning to smear vaseline on the hallway walls).
7. daddy and alex watched part of the Jets v. Patriots game on sunday. it was the first game of the season that daddy sat down to watch. and he fell asleep. oops!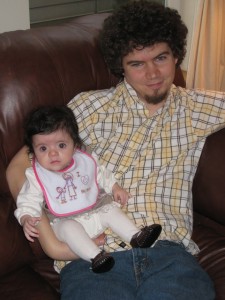 8. i have finally scheduled a date to take my national certification exam. it's on tuesday, february 8th. perhaps i should start studying since i won't be able to return to work until i pass this exam and it's only offered three times a year (AND it's expensive to take)?!
9. there's a crazy scrapbook wall in the movie Everything is Illuminated. totally weird but kinda cool at the same time. but mostly weird.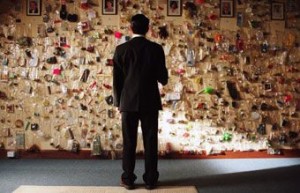 10. my favorite seasonal ice cream is back….. Girl Scout Thin Mint Cookie Ice Cream! mmmmmmmmmm!
11. i found almost-flat heeled, high leg brown boots that i LOOOOVE. unfortunately, i cannot find them in my size. not anywhere on line. sad. so very sad, especially since i have a birthday this week.
12. davey is downstairs in "childrens church" now. he LOVES it. last week he and henry got in a bit of trouble b/c they wouldn't let addisen play with them b/c she's a girl. we had a few talks about that this week. and i'm pleased to say that davey was nice to addisen (and all the other girls) this week. whew!
13. antique/vintage/thrift shopping is ADDICTING…. much like garage sailing!