a few nights ago, dave asked me how old i was when we started dating. the answer is 26. and less than 2 months later i had a birthday. dave found it humorous that we've been celebrating my 27th birthday for a decade. (yes, that makes me 36 now).
we celebrated at dave's parents' house with dinner, a cake and presents. since my birthday was on a wednesday, i had the added bonus of only having one child with me all day (my mother in law watches D&S on wednesdays). while i ran some errands and did some fun thrifty shopping (more on that later this week), my kids made my birthday cake with grandma! auntie mary has a full series of photos of them adding ingredients, sam covering her ears while the mixer is running, etc.
i love the look of concentration on davey's face as he shakes the sprinkles…
…and the look of "i wanna do it again" as he watches over his little sister's sprinkling abilities.
these guys are pretty good cake decorators, don't ya think? (they did have some help from grandma!):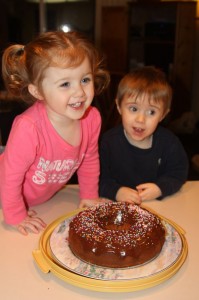 grandma LOVED baking a cake with the kiddos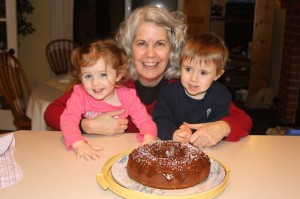 i really liked the finished product: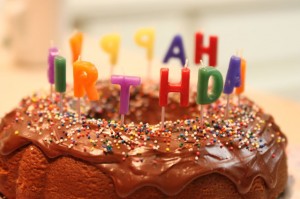 many thanks to all for my birthday wishes and greetings (and presents)! hooray for money, boots, flowers, kitchen towels, decorative plaques and COUPONS (from my husband) for some REALLY GOOD things!