i wanted to take a moment to tell you how crazy we are. not crazy busy (though we usually are). but just plain crazy. crazy in the head. loco. psycho. wacko. whack-a-doodle. whatever you want to call it.
we are planning our family vacation for next year. and if all goes according to plan, we will be DRIVING ACROSS THE COUNTRY. i kid you not. dave, myself and our 3-year old, 2-year old and not-yet one year old. from here to montana (can't wait to see the Wicklands' new home!) and on to ohio (hooray for more Dunkins!) and then to pennsylvania (yep, this means you nana and NYC family) and then home again home again (jiggedy jig).
and because a post isn't nearly as fun without a photo, here's one of alex (slowly) drinking a bottle of formula (from dave):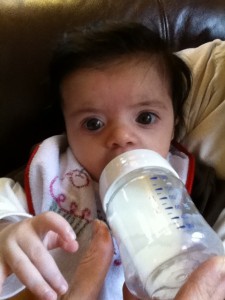 this opens a whole new world of freedom for me…..
in other news. davey can zip his own coat. he did it for the first time on friday morning. i almost cried. and then he told me, "but mama, i'm SUPPOSED to grow up." seriously? yes. he REALLY did say that. those words, even. i LOVE that kid!