how in the world is our little girl already over 5 months old? as with every other month, here i am, belatedly taking photos, sharing them and telling you about our little miracle!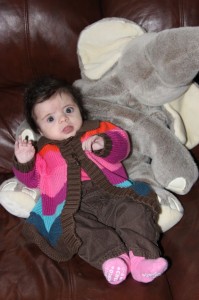 at 5 months, this sweet little girl is still an amazing addition to our family. she is the most chill-axed baby we've ever experienced. her cries are still a sweet, mild wail. and they only happen when she's hungry, has a poo-filled diaper or needs to burp and is lying down. she's always been really good at providing a giant crocodile tear or two when she cries. she's not the best night-time sleeper, though i'm praying for a change to that reality very soon! she's still wearing size 1 or 1-2 diapers (at 5 months!). she wears clothing size 3-6 months (aka: 6 months). with her coloring, she still looks best in deep, dark, rich tones, though i love to see her in shades of purple and lavender, too. i don't think she weighs 12 pounds quite yet. she's more aware of the world around her. i think she knows her name. she reaches out for toys (she still mostly bats at them like a cat, but every once in awhile she'll try to grab them). she looks more and more like her big brother every day. she's still VERY serious and she limits the smiles she shares with the world. she's very aware of her surroundings and she's an observer (also much like her big brother).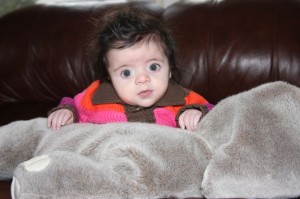 the day before Thanksgiving, alex starting talking/cooing like crazy. she makes the sweetest little noises and sometimes dave and i just look at each other across the room and smile when we hear her. it'll be so sweet when we finally hear her voice mixed in with those of davey and samantha. in the last 2 weeks alex has FINALLY (hallelujah and praise the Lord!) taken a bottle of formula! it's been a LONG TIME COMING. she is the SLOWEST bottle drinker i've ever known. she nurses a full feeding in 8-20 minutes (depending on the time of day). but it takes her a good 45 minutes to drink a 5-6 ounce bottle. but i'm not complaining. i'm VERY THANKFUL that she will now drink from a bottle. (i think i feel some freedom heading my way!) she is definitely a pacifier girl (though, thankfully, not all the time) and for those of you who haven't seen her munching away on her pacifier before… watch an episode of The Simpsons and just put Alex's face and dark hair on Maggie's head!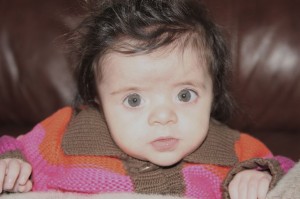 this girl is the sweetest addition to our home. she is adored by her big brother and sister. she is well loved by her daddy and mommy.