the kids were a wee bit excited on Christmas morning:
stockings are fair game. samantha's got it down: just turn it over and dump it out. davey chose to pull out items one at a time.
alex had a few moments of being totally alert: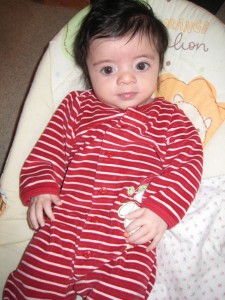 for breakfast, i made homemade cinnamon rolls: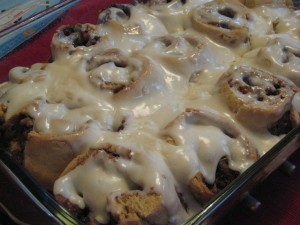 yes, they were gluten free. davey chose to eat his mini m&ms for breakfast instead: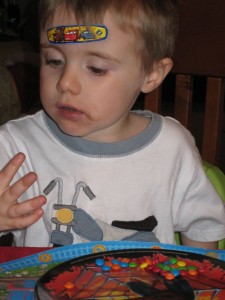 (the band aid on his head was in his stocking – the kids get a box each year. he chose to bump his head on the kitchen table so he would have an ow-ie so he could use a new band aid. he wore that thing ALL day). we tried to get davey to eat a bowl of cereal at least, but that didn't work. he finally agreed to eat a graham cracker.
the cinnamon rolls weren't very good. it's the recipe i usually make, but this year, the gluten free flour made them grainy. and they didn't puff like they normally do.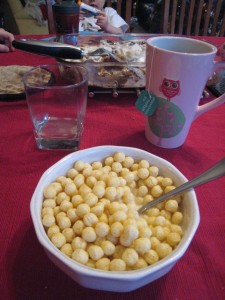 so i ended up eating a bowl of kix. (dave decided he'll just stray from his gluten free eating next year… we currently have a whole pan of rolls that no one's going to eat!).
dave and alex waiting to open gifts: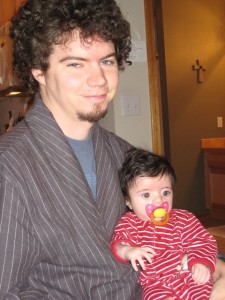 these two were SO EXCITED for presents this year. i think next year will be a VERY INTERESTING Christmas!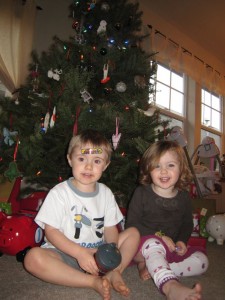 after stockings, breakfast, presents and getting ready at our house, we headed to dave's parents' house for round two….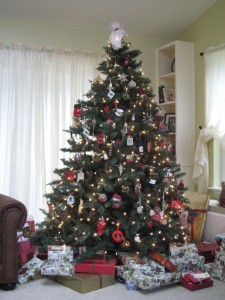 davey started the morning on grandpa's lap for the reading of luke 2 (the Christmas story) but samantha wound up there:
and by dinnertime, the littlest girl pictured here was all tuckered out from her first Christmas celebration: