last saturday, alexandra turned 4 months old. four months already? yep. hard to believe that it was about 8 months ago that we were offered the "kind" and "understanding" words from a doctor in seattle that it would be okay if we "took measures" to protect the mom during delivery instead of the baby.
we knew right away that we would EXHAUST ALL MEASURES POSSIBLE to DELIVER this baby girl…. dead or alive. we were already in love with her. and here we are. eight months later and alexandra daisy sue dunkin is healthy, beautiful and amazing. i LOVE this little girl. who wouldn't?
here's a little glimpse of our youngest at FOUR months:
- 10 pounds, 7.5 ounces (5th percentile)
- 23 inches (10th percentile)
- still loves to play with her tongue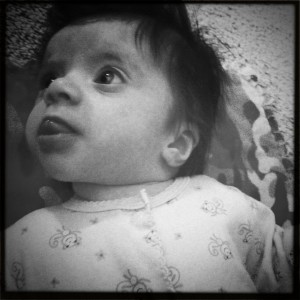 - still NOT sleeping through the night (and i'm very, VERY tired most of the time)
- wearing Huggies diapers size 1-2
- wearing mostly 0-3 month clothing (though her footie jammies are too short!)
- still has a VERY serious look on her face most of the time
- is VERY alert and VERY aware of her surroundings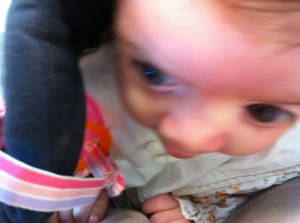 - is still my easiest baby
- has a quiet (a wee bit raspy) cry
- has a nice bald spot on the back of her head but otherwise hasn't lost any of her hair from birth
- has a triangular head from always turning to the right (we've taken some active measures to alter that – thankfully her amazing head of hair covers it!)
- LOVE, LOVE, LOVES her big brother and big sister
- is reaching for toys and batting at them (much like a cat)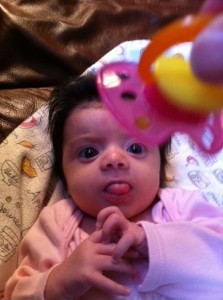 - STILL will NOT drink from a bottle (will i EVER get a break?)
- tolerates bathtime (most of the time) but doesn't really enjoy it
- has discovered it's fun to suck on her hands/fists/fingers
- gets REALLY gassy (and mad!) if she isn't burped after eating/feeding
- is a people watcher (yes, already!)
- was a seriously cute tiger for halloween (gotta love 25-cent garage sale costumes!)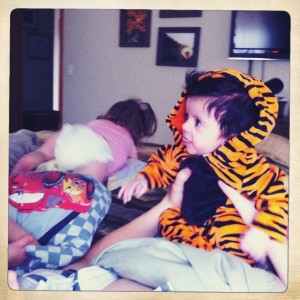 - will sit in her bumbo (if it's up against a couch on the floor) for a short period of time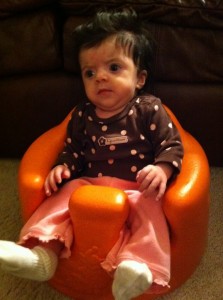 - enjoys her swing and her floor play mat
- doesn't scream during tummy time but doesn't seem to enjoy it, either
- can smile but does so sparingly
- can coo but almost never utters a peep
- is fully loved and adored by her siblings and parents (and the rest of her relatives)
- isn't a fan of her car seat (we went cheap-o when davey was born and we're still using the same seat) but will fall asleep on a car ride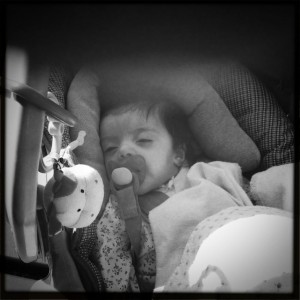 - almost always wants her pacifier when falling asleep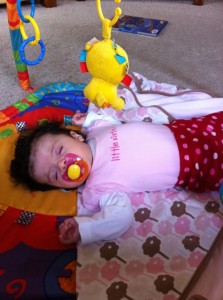 i love you so much, sweet alex. i do wish you would allow me to sleep through the night, but i know that will come in time. you are a beautiful little girl. our miracle from God. our priceless gift. may we continue to learn more about His love through your life!