a few weekends ago we loaded the family into the Pathfinder and headed south. as with most of our adventures, things did not go as smoothly as hoped. dave and i were hungry (it was a late lunch time) so we stopped at the nearest Chipotle (which is over 90 minutes away from our home). Both kids had wet bottoms…. Sam's diaper was too full as was Davey's pull up. i had not packed extra clothing for either of them. i nursed alex while eating my lunch in Chipotle. and then once we were back on the road (the kids were sitting in their seats without their jeans so they could dry a bit!) we hit traffic.
it was pretty late by the time we got to the aquarium, but we were all excited to see the fish and animals. unfortunately for me (and for alex), i had left the baby bjorn at home (alex is not a fan of spending extra time in her car seat).
but despite the rainy weather, the dried pee-jeans, no baby bjorn and NO NAPS, we had a wonderful time:
the purpose of our adventure to seattle was not to actually visit the aquarium. it was to spend some time with Sterling & Rachel and their friends to celebrate Rachel's birthday:
thanks for inviting us! dinner (at Bucca di Beppo) was yummy!
Sam enjoyed playing with the pepper shaker: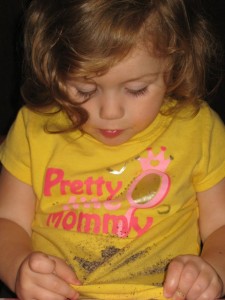 while Davey couldn't get enough of Rachel's birthday cake (which Sterling purchased from a bakery):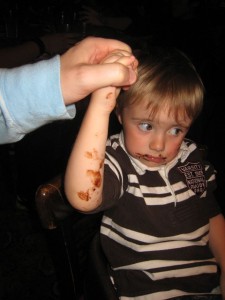 Dave, unfortunately, was unable to enjoy most of our evening goodies. He's been trying a "30-days gluten & grain free" diet for well over 30 days now (we had about 4 restarts to the diet – did you know that SOY SAUCE has gluten in it? and even one tiny bite of a waffle ice cream cone means you have to restart completely – even though you're on day 10?! even bloody mary mix has gluten in it. i kid you not). i think we've finally made it to day 21. (and he's no longer going "grain-free." he is trying to avoid it, but there's corn starch and corn syrup in just about EVERYTHING, so avoiding it is too complicated, especially with my limited cooking skills). at day 30, he will evaluate how he feels and then reintroduce gluten to his diet. if there's no difference, then he's not sensitive to gluten and we can resume our "normal" food intake (actually, dave's the only one going gluten free – i can not imagine doing that with the kids or myself right now). dave has, however, lost 10 pounds so he's planning on continuing a very low-carb diet if he DOES add gluten back into his diet.