earlier this month, we attempted to go to stoney ridge farm on a saturday. it was a beautiful, BEAUTIFUL saturday. we arrived shortly after they opened and it was a ZOO. we had to park in an overflow lot. out in the boonies. and people were lined up on the street to get into the farm. we parked and i looked at dave and said "i can't do this. not today." so we backed out of our spot and drove away. no pumpkins. no apple cider donuts. no wagon ride. no apple picking.
instead, we had another family adventure at a park. but five days later, on a thursday, dave took the morning off work and we headed back to stoney ridge. we parked in the main lot. we entered quickly and easily. and though we were overrun with various school groups (lots of pre school classes!), we still had fun. and saw everything.
and we DID get our pumpkin. and an apple. and apple cider donuts. and a wagon ride. see for yourself:
(i plan to enlarge this one):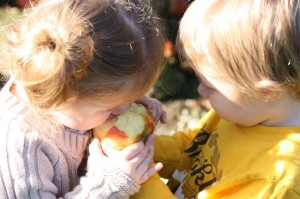 another year's visit to the pumpkin patch complete.