dear samantha,
it seems like you've been two years old forever… but today is finally the day. your 2nd birthday. you are a bundle of energy. you can go from 0 to 60 in about 5 seconds… and you go from 60 to 0 in about 5 seconds as well. you play hard. you crash hard. you are full of life and energy from the moment you wake up until the moment you fall asleep. at the same time, you are loving and gentle. you are my child who will always give a hug. who always wants to sit on someone's lap. it took you a LONG time to say more than four words (baba, mama, dada and ba-bo which stood for everything else) but now you share your heart with us throughout the day. most of the time i understand what you say, too. you're beginning to speak in (short) complete sentences. you have a sweet voice which belies your 90th and 95th percentile statistics for your height and weight. you're wearing size 3T clothing (and have been since the summer). you have an opinion (and you express it) regarding your daily attire. pink (which, until recently, you said "peep") and purple are your favorite colors. you're wearing size 6 diapers (my genius idea of potty training you and davey together a few weeks ago lasted all of 2 hours) and you would drink milk (from a bottle) and eat cheese all day, all the time, if i would let you. you used to be my best eater, but that has changed over the last month or two. you love to watch Bolt, Monsters Inc. ("monsers"), Caillou ("Tai-you"), Super Why ("Fuper Y") and the Care Bears ("tare bears"). you love to make tea in your kitchen, play with your dollies and playing fun games with your big brother. you almost always have a smile on your face and your smile + your laughter are infectious. you love to help mommy (especially with Baby Alex – or "Baby Addax" as you used to call her).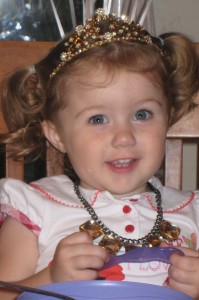 samantha jane, you are a daily delight to your daddy and i. davey asks about you anytime you're not around (and you do the same!). our lives would not be as energized as they are if you had never been born. we are so thankful for you, sweet daughter, to have you in our family.
we had a fun party for samantha last night. as a special treat, i let her wear my tiara (i wore it when dave & i got married) b/c she loves to be a "pitty pincess!" many thanks to the family members that were able to attend and help us celebrate our wonderful daughter… and to the Dyck family… you may not be family by blood, but you're still family!